Tuff-Gard is a waterborne, 100% waterproof and seamless membrane liquid rubber system with a multitude of industrial and residential applications including roofing and foundation waterproofing, corrosion protection and sealant for wood, metal and concrete.
With over 40 years experience in the roofing and building trades, the creators and manufacturers of Tuff-Gard knew there was a need for a sealing and waterproofing product that:
Search for construction leads
Provides excellent value
Is remarkably durable & versatile
Has no VOCs
Reduces waste
Uses recycled materials
Whatever the waterproofing needs are, get Tuff-Gard the Absolute Water Protection.
Tuff-Gard is a two-component, elastomeric system of polymer-modified bitumen. Both components are waterborne, non-flammable liquids, which present no storage or transportation hazards. The product's System successfully addresses and eliminates the recurring problems associated with conventional membrane and coating systems.
Tuff-Gard is applied on site in one coat at virtually any desired thickness. Both components are at ambient air temperature when applied, with no heat required or involved in the application. The system produces no offensive odors and no VOC emissions. The applications are monolithic, having no laps or seams to compromise the function of the membrane, thus eliminating the major cause of failure of conventional sheet membranes.
Tuff-Gard designed and built applicator equipment for licensed Applicators and Dealers. The tuff gard single component requires machine application. While the tuff double component requires roller or brush for application.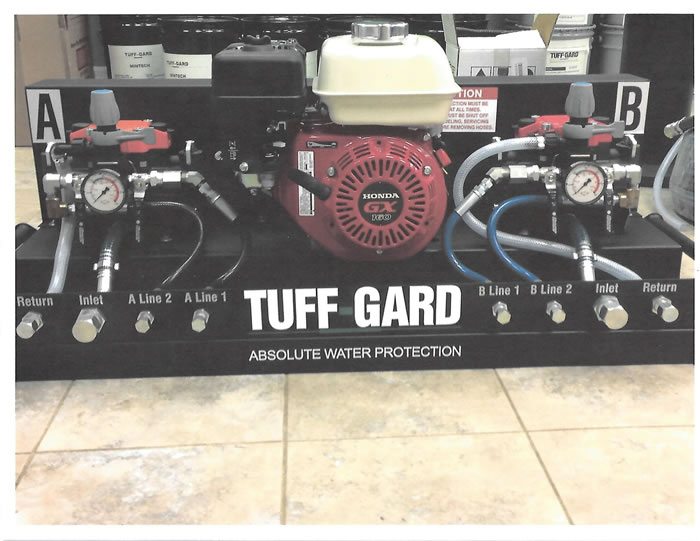 The product is extremely tough, having independent strength equal to or exceeding top quality sheet membranes and coatings, thus significantly reducing the risk of mechanical damage, another frequent cause of failure. Tuff-Gard demonstrates performance superior to pre-formed and other "basic" membranes and coatings, especially in terms of flexibility, with elongation to 1800% and recovery to 95%, combined with the ability to withstand continuous thermal cycling, bonds fully to the substrate, and eliminating water tracking.
Compared to conventional systems, Tuff-Gard cuts installation times dramatically, requiring less surface preparation and allowing faster completion of projects at significant labour and other cost savings, while providing a high quality installation.
The product is currently available in Nigeria since it's new to in Africa and is being introduced by everglades consult logistics. They are currently looking forward to partner with agents and distributors all over Africa.
Mr. Rex Uche, Marketing Manager advices potential buyer to consider their product as they offer 100% risk free given that their products are durable and the best of its kind with 10years guarantee.
Mr Rex also commented on the emerging trend concerning the waterproofing technology that, "I see large volumes of sales to be made by Africa, as to us custormers satisfaction is a priority and a guarantee."
They have also participated in marketing and logistics exhibitions for international and local products for consumers worldwide.
Contributor:
Tuff-Gard
Mr. Rex Uche
+2348039102908
 www.tuff-gard.com