Volteco S.p.A. is an exhaustive reference point for all waterproofing work on buildings. From walls to floors, from plaster to historic and newly-built brickwork. In over ground and underground components. It offers products and solutions to problems caused by water in new and existing buildings in five areas, typically:
Waterproofing basements and cellars
Waterproofing of pools and tanks
Waterproofing terraces and flat roofs
Protection of plaster facades and concrete restoration
Dehumidification of damp walls
With regards to the product range, Volteco distinguishes itself with a long experience as manufacturer of high performance elastic membranes. This technology has been strongly developed since early '90s through the internal R&D department to obtain a comprehensive range of products for different application fields, and with different levels of performance within each field.
Volteco waterproofing systems
They are completed by waterproof mortars, repair mortars, breathable plasters, joints, chemical barriers, bentonite liners and a full set of accessories to allow a perfect application. All these are also designed and manufactured according to the best standards in order to deliver system-solutions to its customers.
A proven experience in rising damp treatment, crack repair solutions and effective waterproofing membranes for below ground rooms, allows them to create new water-resistant standards in the construction field. To ensure safety and building retention is their essence and main activity.
AMPHIBIA
Pre and post-casting waterproof membrane with high hydro-reactive properties: this is AMPHIBIA, the brand-new product just launched by Volteco. Outcome of a long work and a thorough study started in 2006 from the idea of developing hydrophilic polymers, thanks also to cooperation with some Universities and partnership with international research institutes and industrial specialists, AMPHIBIA leads to reality an innovative concept of waterproofing.
This hydro-reactive membrane, made with several layer with differentiated functionality, when in contact with water allows at the different layers to swell differently thereby obtaining a complete waterproofing of the underground structures.
Coming to details the first layer – Tight Barrier – is fully watertight and represents the first barrier; the second layer – Core – is a safety super-expanding, self-sealing and self-healing layer that in case of breaches seals the fastening nail or the passing body; the third layer – Active Barrier – is a hydroreactive, expansion-controlled, for self-sealing of overlaps and the fourth layer – Grip – is a special textile designed to be fasten to concrete.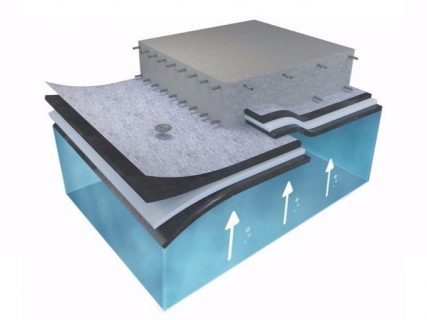 In this way the structure of the membrane consists of a continuous extruded multilayer polymeric sheet with different functions. The energy inside the core of the membrane, in presence of water infiltration, performs a continuous and active waterproofing pressure keeping the structure dry.
AMPHIBIA is available in 2 versions: AMPHIBIA 3000 (POST-CAST) and AMPHIBIA 3000 GRIP (PRECAST) and both are available in double width: 90cm or 180cm. The Pre-cast version is self-gripping to concrete thanks to a non-woven textile and guarantees an exceptional mechanical adhesion of the membrane to the structure.
Expertise and its role in innovation
Volteco is an Italian manufacturer of damp proofing materials, believing that durability and safety are at the core of any home comfort and enterprise success. Dehumidifying and waterproofing systems from Volteco are aimed at reducing the impact of rising damp on private and commercial buildings of any age.
The dynamically developing and the innovative damp proofing production made Volteco an iconic company famous for its attitude to quality and long standing partnerships on international level. Focusing on expertise in rising damp prevention and in crack repair, Volteco is maintaining its leading role in the development of the newest waterproofing technologies for the construction sector, including solutions for below ground structures.
Constant quality control and lab research permit them to bring the water and moisture-proofing techniques to a new level. Advanced management together with effective sales and marketing policies are among the key factors of company's success. The company believes that individual approach in communication with client is the key element of long standing partnership on international level.
Their expertise in rising damp solutions was gained during 40 years of progressive development and active presence on promising foreign markets. Nowadays Volteco has an expansive team of experts offering effective waterproofing solutions for below ground level garages and rooms, rising damp treatment of basements and pools, dehumidification of damp walls, terraces and flat roofs, crack repair and restoration of facades.