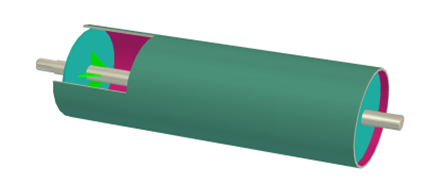 Structure of aggregate belt conveyor
The concrete batch plant Aggregate belt conveyor structure generally consists of the following mechanisms:
Drive unit, tail tensioner, weight device, belt frame, pedal and armrest, belt, upper and lower rollers, emergency stop switch, cleaner
cleaning device; 2.driving device; 3.frame; 4.hanging roller; 5.parallel lower roller; 6. redirecting roller; 7.tensioning device; 8.hood; 9. maintenance walkway 10.belt; 11.hopper; 12. adjusting screw
Driving classification of aggregate conveying equipment for concrete batching plant
1. Drive unit classification
Electric drum drive, belt drive, chain drive
2.Dlectric drum
It is a drive roller that fits the motor and reduction gear into the drum. Due to its compact structure and small size, it is only suitable for short distance and small power belt conveyors.
Line speed calculation formula:
V=n*3.14*D/60
V: belt line speed, m / s;
n: drum speed, revolution / minute
D: drum diameter, meter
Belt drive:
The power is transmitted from the motor to the shaft-mounted reducer through the SPC V-belt, and the shaft-mounted reducer drives the active drum to run at a constant speed. When the belt conveyor is installed obliquely, the backstop is equipped in the shaft-mounted reducer

Chain drive:
The power is driven by the gear of the reducer through the chain to drive the active drum at a constant speed.
Active roller style
Light steel surface active roller
Overall rubberized active roller
Friction type laminating active roller
concrete batching plant manufacturer