On September 21, the Austin City Council gave its final approval for the $1 billion Brodie Oaks Shopping Center redevelopment project. This significant milestone follows years of deliberation and planning. The developer successfully secured the essential approvals to reshape the zoning regulations, paving the way for a remarkable transformation of the area at 4040 South Lamar Boulevard.
At the helm of this transformative endeavor is the partnership between Barshop & Oles and Lionstone Investments from Houston. Their vision is to convert the sprawling 38-acre site into a nine-building complex, potentially featuring a towering structure reaching as high as 25 stories.
Council Member Leslie Pool commended the Brodie Oaks Shopping Center redevelopment project, highlighting its multifaceted benefits. She remarked, "In my opinion, Brodie Oaks sets the bar for future planned unit developments going forward. It provides affordable housing, parkland, and contributes to environmental goals."
Upon completion, this ambitious initiative is poised to offer 1,700 residential units. A substantial 200-room hotel, extensive office space, and a vibrant ground-floor area for shops and restaurants. Notably, approximately 200 of these residential units will be designated for individuals in need of affordable housing.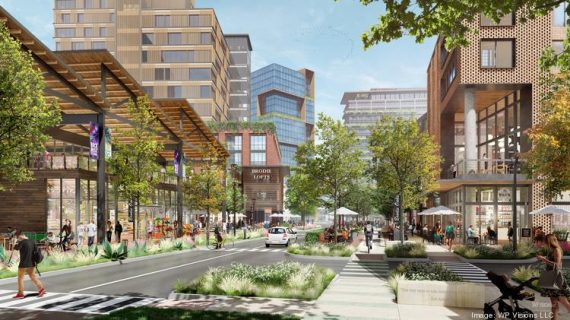 Brodie Oaks Shopping Center redevelopment project timeline
Project's design is expected to be finalized later this year, with construction slated to commence in 2025. While the initial phase may potentially be ready for occupancy by 2027, it is important to note that the entire project is projected to span approximately a decade for completion.
Read also: Heritage Square Redevelopment Phase One Site Plans Submitted
Securing approval for Brodie Oaks Shopping Center redevelopment project from the Austin City Council marked the culmination of a lengthy journey. The project was initially proposed in late 2020 and garnered recommendations from various city groups in the subsequent year. The City Council granted its initial approval in December, with the final approval being secured in May.
One of the big goals of this project is to have less pavement and more open space, especially near the Barton Creek Greenbelt. The plan includes the allocation of nearly 14 acres for open spaces. With approximately 7.5 acres dedicated to parks, constituting roughly 20% of the entire area. This underscores the project's holistic approach, emphasizing not just structures but also the preservation of natural spaces for community enjoyment. The Brodie Oaks Shopping Center redevelopment project is undoubtedly poised to transform the city's skyline.