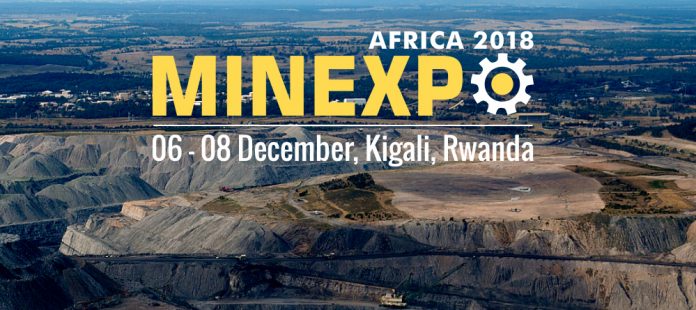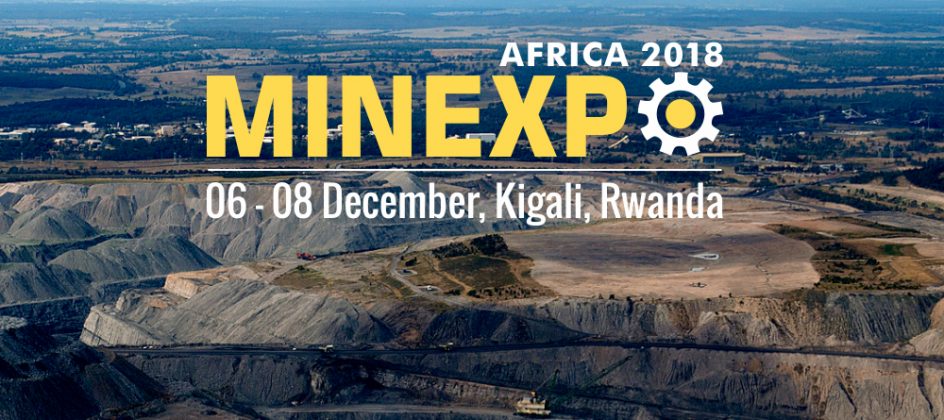 The Mining sector is Rwanda's second largest foreign exchange earner just behind tourism and the resilient East African country took in $166-million from exports of the commodities in 2016 and this figure jumped to $373-million in 2017. The 2nd Minexpo Rwanda 2018 is being held in December 2018 bringing together this industry at Kigali.
Recognized as the biggest industry event in Africa, Minexpo is held in 3 African countries. The Rwanda event features exhibitors from 15 countries while laying a massive platform for the local mining industry to connect with each other.
Mining is one of the core sectors that drive growth in the East African region in terms of infrastructure and economy. The exhibition provides a common platform for both local and international exhibitors, professionals, buyers and delegates who share a common vision in the industry.
Stakeholders from both government as well as the private sector organizations, decision makers from the end user industries as well as industry observers and experts are provided a platform to interact with each other within a single venue, making the event an excellent stage for networking and relationship building.
Participants in the event come to explore the immense potential of the East African market while the visitors are exposed to explore various new business options.  Countries dominant this year are Germany, China, India and Italy with several leading international brands looking to build a solid foundation in the East African market.
Mining in Rwanda
Supported by a rebound in global prices of commodities, Rwanda's mineral exports earnings witnessed a more than double growth to US $373m in 2017 as compared to the previous 12 months. The growth was driven by very strong commodity prices on global market along with good prices of new commodities particularly gold and gemstone.
According to industry officials monitoring the sector in Rwanda, the projections for this year now stands at US $600m with exports volume of 10,000 tonnes. There is ongoing exploration on 13 mining blocks for different minerals and there are already five packaged and tendered potential mining blocks for investment which are seeking investors. Preliminary ground geophysics and geological exploration works were conducted in 2017.
The Rwandan Government has the goal of increasing mineral export revenues to US $800m by 2020 and US $1.5bn annually by 2024. There is a continued investment in exploration studies to understand the extent of deposits before bringing the private sector on board when appropriate. Gemstones resources occurrences have also been identified and mapped. So far an assessment for development, trading, cutting and polishing has been made and the projects are being discussed for financing options.
"The Minexpo platform was created for the growth and development of business opportunities through the active participation of the industry leaders in the mining sector. We are positive about the opportunities of this region and look forward to many more exciting editions of Minexpo," said Trevor Daniels, Media Manager for Minexpo Africa.
Minexpo is an ideal forum for international companies to showcase their products and services to a market that is emerging as one of the front runners in the African continent. Major company leaders from East Africa, and surrounding regions are invited directly in collaboration with regional trade bodies in Kenya, Tanzania, Ethiopia, Uganda, Somalia, Mozambique and Congo.
Currently, Rwanda exports four main types of minerals, including gold, cassiterite, coltan, and wolfram. The government is currently looking for companies  local, regional and international to invest in manufacturing mining and processing equipment. There are also discussions with companies that want to establish consultancy services specialized in mining, whether in environment social-impact studies or feasibility studies.
Not only does this sector contribute to GDP, but acts as a catalyst for growth in other industries such as construction, power & energy and industrialization. The future of the mining sector in Africa lies in laying emphasis on scientific approach so that state of the art technology & machinery is used for exploration, efficiency and safe mining practices.
Phone:
+971 43050755
Email:
Website:
Venue
Kigali Convention Centre, Kimihurura Roundabout
Kigali