By Anthony Kiganda
Mixed use developments
With an ever increasing population coupled with high cost of land, Kenya has opted for universal alternatives for reaching the sky. Developers have resorted to mixed use developments in Kenya offering them an opportunity to offer much needed parking adequacy, convenience and the live-work-play concept.
The developments
In Westlands neighbourhood of Nairobi, construction of what would be the tallest mixed use ultra modern complex in Nairobi is nearing completion. Dabbed Le'mac, the Dubai styled 24 storey project is built on 1.32 acres piece of land and represents a new class in real estate development. The mixed use complex will house a banking hall, a café, restaurant, showrooms and residential apartments.
Mavji Varsani the director of Mark Properties, the firm behind the project says that Le'mac is intended to mimic residential buildings in Dubai that incorporate play grounds, offices and retail space.
"The society is fast changing and so is its lifestyle. Le'mac seeks to offer a solution to people who want to have easy access to offices from their houses with the aim of saving time," offers Varsani. The UK based developer says that in London mixed use developments are more the rule than the exception.
On Limuru Road Two Rivers Mall which sits on 102 acres integrates the retail mall with two office towers with a total of 215,000 square feet. Like Lemac it has residential apartments, hotels, and recreational space. It spans 62,000 square metres. The Centum Group project was due to open in March 2016 but was delayed to allow all 190 tenants to finalise preparations.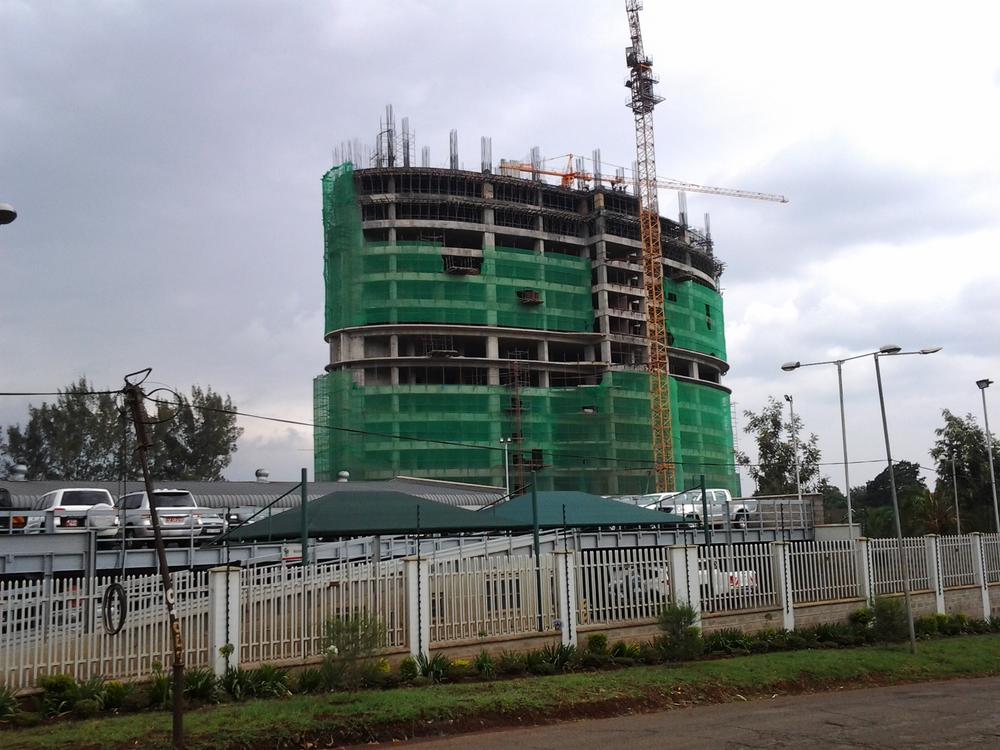 Le' mac in Nairobi is a mixed use development
But these are not the only signals that Nairobi is fast adopting the new model. Along Thika Road in Nairobi, another mixed use development called Garden City has already opened its doors. It has 50,000sqm of retail space, 20,000sqm of office space. As with Le'mac, it has 420 apartment and town houses, 120-room business hotel and a three-acre park. The development which boasts the largest solar panelled carport in East Africa has been granted vision 2030 private sector partnership status.
On the other hand the Hub Karen which opened its doors this year has slightly over 1,000 parking bays on the retail side which also hosts office space.
 Global Cities 2016 Report
In its report dabbed 'Global Cities – The 2016 Report' real estate firm Knight Frank notes that Many occupiers increasingly view offices as an effective means of controlling the bigger and more damaging business cost of staff attrition.
Additionally, Knight Frank observes all mixed use developments have been positioned along major roads that are well-serviced with public transport, further improving accessibility. For example, Le'mac is located off Waiyaki Way near the Toyota Show Room,Two Rivers is serviced by Limuru Road and the Northern By-pass, Garden City has Thika Road and the new Outering Road, while The Hub has Ngong Road and Southern By-pass.
According to proponents of this model, when all one needs is within easy reach, there is greater efficiency. For companies, this will mean higher productivity in work places while for employees who live within the developments; it means more time for families and recreation with less time in traffic. The convenience works for both the employer and employee.
 "It's a very encouraging direction. This model presents opportunities and better ways for companies in a new kind of office occupation. It has not been a common thing in Nairobi so we are showing the market the benefits of having workplaces in a predominantly retail environment," says Ben Woodhams who is the Knight Frank Kenya Managing Director. His views are echoed by Varsani who says that mixed use developments like Le'mac can boost efficiency at work places.
Devolution
For years, Nairobi has long been the main focus of Kenya's property market. In 2015, the World Bank ranked Nairobi 16th out of 35 African cities by rent yields for the four main segments of residential, office, retail and industrial. However, devolution of powers to local authorities is emerging to be a game- changer by opening up new opportunities beyond Nairobi. Observers say mixed-use complexes will become increasingly common and expand out to the middle-income segment.
Real estate sector in Kenya remains the most attractive venture for investors according to 2016 data from the Kenya National Bureau of Statistics. The real estate sector's year-on-year growth at the end of third quarter of 2015 was 5.4 per. The data echoes Cytonn Investments' report which shows that in the last five years real estate generated returns of between 25% and 30% and making it the most lucrative business to venture into with zero losses.
However, critics are skeptical about the growth of this sector and whether it will be able to maintain a return on investment. This they say, is because the sector is mostly local oriented with a small percentage of foreign investors.
Housing deficit
But according to the National Housing Corporation, there is a housing deficit of more than 200,000 units per year for the low- to middle-income market.
Most of the ongoing projects target the higher classes, and prices have skyrocketed. The starting price of a two-bedroom apartment in areas like Kilimani in Nairobi is about Sh20 million. Rentals have also followed this trend making the market intricate as lots of new residential buildings remain empty.
But Versani says their apartments are affordable adding that construction of Le,mac marks the beginning of similar projects that Mark Properties will erect in the country.