College student housing has come a long way in recent years. From tiny dorm rooms with little to no privacy to spacious and modern apartments, many colleges are now offering more options for their students regarding where they will live during college. After the COVID-19 pandemic, the need for safe, comfortable, and convenient housing became even more critical. Colleges are now offering a range of options for students to choose from, such as shared apartments, private suites, and single bedrooms.
These new trends ensure that students can find the housing that best meets their needs. For example, shared apartments provide a chance to make friends and save money, while private suites offer more privacy and larger living spaces. Single-bedroom flats are ideal for students who want to keep their space confidential from others. This article will discuss some latest trends students can look for when choosing their college student housing.
Use Of Technology
Search for construction leads
A growing trend in college student housing is the use of technology to make a living more comfortable and convenient. Technology can improve processes and services like any other business or industry. Here are the different ways that technology can be used to enhance college student housing:
Online booking: Colleges and housing providers are now offering prospective students the ability to reserve their housing online. It makes it easier and faster for students to book their accommodation before arriving on campus. For example, sites like hillcrest-townhouses.com allow students to make early bookings, save on costs, renew their contracts, and check out their apartments online.
Virtual tours: Virtual tours have become a common feature of college student housing websites since the Covid-19 pandemic. These allow potential tenants to get an idea of what the accommodation looks like without visiting it physically. This is particularly useful for students looking for long-term housing, as they can get a better sense of the layout and amenities before committing.
Smart appliances: College student housing can now come with smart appliances, such as refrigerators and microwaves. These can be connected to the internet for remote monitoring and control. This allows tenants to monitor and control their appliances from anywhere using a mobile app or website.
Smart locks: Many college student housing buildings are now offering smart locks. These allow tenants to unlock their doors with a smartphone app or keypad code, which makes it easier and more secure than traditional keys.
These technological advancements have been a priority requirement for college students nowadays.
Sustainable Spaces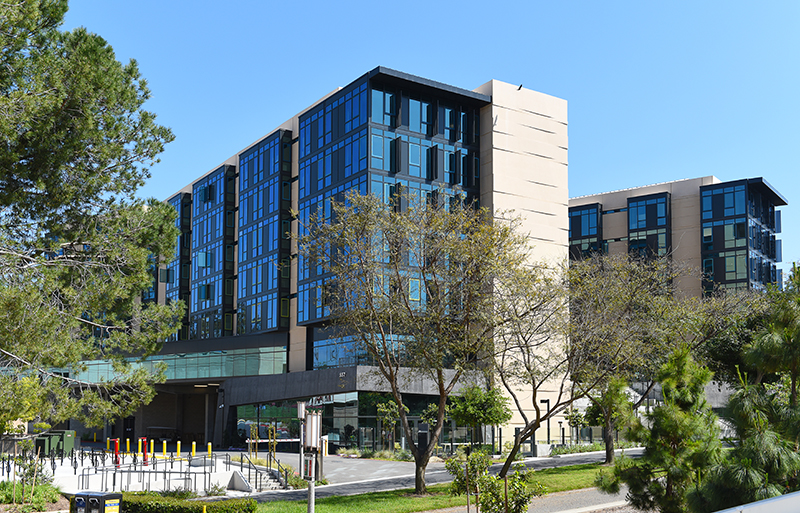 Going green is now a significant trend in college student housing. Many new apartments and buildings, such as energy-efficient appliances and sustainable building materials, are now designed with sustainability. This benefits both the tenants and the environment since it reduces energy consumption and helps reduce carbon emissions. Many colleges also offer incentives for students who choose green living options, such as reduced utility bills and accessible transportation.
Sustainability in student housing is seen as an excellent way to influence student behaviors, as it's a tangible way to promote well-being, responsibility, extra learning opportunities, and enhance the curricular and extracurricular activities of the students. Colleges and universities pushing for sustainable living will also likely receive recognition, such as the Leadership in Energy and Environmental Design (LEED) certification.
Community Spaces
Another trend in college student housing is the introduction of community spaces. These shared outdoor or indoor areas provide students with a place to socialize, study, and relax. Community spaces can come in many forms, such as rooftop gardens, open-air courtyards, and game rooms. These spaces make it easier for students to interact and build relationships with each other in a safe, fun environment.
A study found that stress, anxiety, and loneliness contributed to about 44% of students' challenges during the Covid-19 pandemic. As such, having more collaborative spaces on college campuses is essential. Community spaces offer students a place to connect and build meaningful relationships, making the college experience more enjoyable for everyone.
However, while housing designs focus on providing collaborative spaces, there's also the need to ensure that these spaces are safe. For example, the houses are built with non-contagious corridors, spacious double rooms, and eco-friendly materials. This feature ensures that students enjoy collaborative spaces and are safe and secure.
Private Housing Solutions
Private housing solutions are becoming more popular among college students who want to live in something other than dorms or shared apartments. Private housing allows them to have their own space while still having access to the same amenities and services as traditional student housing.
These private housing options can include individual apartments, group houses, and even tiny homes. They provide the same level of convenience and comfort as traditional student housing but with more privacy.
While the demand for private rooms is expected to lead to a short supply of housing solutions, colleges and housing providers have been forced to adjust their policies to accommodate the demand. For example, some colleges have allowed students to rent apartments or homes while offering them access to university services and campus resources. Moreover, colleges have also built student housing with private showers, spa bathrooms, and noise control solutions to ensure students get the privacy they need.
Change In Mode Of Transport
Before the Covid-19 pandemic, using buses around student housing was the norm. However, with social distancing measures in place and students being encouraged to avoid public transportation, many colleges and universities are now exploring alternative modes of transport.
Some of these include bike-sharing services and self-driving vehicles. These solutions offer students a safe and convenient way to move around campus without worrying about the risk of infection.
Furthermore, many universities are also providing incentives for students to use these alternative modes of transport. For example, some universities offer discounts on bike rentals or even free rides in self-driving vehicles. This ensures that students can access safe and convenient transportation options while participating in eco-friendly practices.
Phasing Out The Dorm Structure
The traditional dorm structure was a place where students used to live. No other activity was allowed in these dorms, and the focus was purely on sleeping. However, this is slowly changing as colleges are replacing the traditional dorm structure in favor of more modern and flexible housing solutions.
These new housing models provide students with various activities while living on campus. These include studying spaces, lounge areas, game rooms, and communal kitchens. This flexible housing structure gives students more freedom when living on campus and makes the college experience more enjoyable for everyone.
High Demand For Functional Amenities
While affordability is a crucial consideration for students looking for houses, the latest trends show that there's also a demand for functional amenities. Students are now looking for housing solutions that offer them access to high-speed internet, technology features such as smart home systems, and recreational facilities like gyms and swimming pools. Moreover, students also demand access to laundry, pet care, and other convenience services.
These amenities are becoming essential for students, and colleges are now responding by offering more options to keep up with the demand. With the increasing emphasis on student satisfaction, colleges must provide housing solutions that meet the needs of their students.
Demand For On-Campus Housing For Graduate Students
The latest trends in college student housing also show an increasing demand for on-campus housing for graduate students. While more graduate students live off campus and others live with their parents, more and more students say they prefer living on campus. Some cited reasons include transportation, other financial-related costs, and access to campus resources.
Therefore, in the coming years, there's an expected shift in the demand for on-campus housing as more graduate students choose to live close to the university. This means that colleges have to accommodate this increased demand to ensure student satisfaction and success. It will include providing more graduate student housing and ensuring that these housing solutions meet the needs of the students.
Gender-Neutral Housing
Colleges and universities are also introducing gender-neutral housing options. It allows students to live with roommates of any gender without conforming to traditional gender roles or expectations. This provides a more inclusive living experience for students, allowing them to live in an open and accepting environment of all individuals regardless of their gender identity.
As more students push for gender-neutral housing, colleges are slowly responding by introducing these options on campus. However, these gender-neutral spaces are designed to guarantee student privacy. For example, there are gender-specific bathrooms and shower facilities to ensure that no student is exposed to an environment that does not suit their needs. Additionally, policies and procedures are in place to ensure that all students are kept safe and respected. This housing model has been adopted by top universities worldwide, and more colleges are expected to start introducing it in the future.
Conclusion
These latest trends show a shift in demand for college student housing as students embrace new models of living that offer them more freedom and flexibility. Colleges must keep up with this changing dynamic to ensure student satisfaction and success on campus. By introducing more functional amenities, on-campus housing for graduate students, and gender-neutral housing options, colleges can guarantee that their students have a living environment that suits their needs.