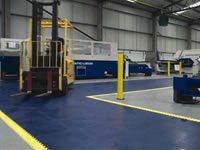 PVC or vinyl flooring have taken over homes, following decades of justified popularity in non-residential spaces requiring safe, resistant materials that are easy to clean, such as schools, hospitals, sports centres and shops.
The characteristics which confirm the ideal nature of PVC flooring in non-residential buildings are also valid for residential properties, which is why, in order to meet the needs of the new market segment, manufacturers have launched a larger number of collections, in line with modern consumer tastes.
Current designs range from imitations of classic woods and ceramics to bright flooring in acidic colours, and designs which simulate water, granite, geometric shapes and various other forms.This safe, resistant material which is easy to clean looks perfect after being mopped with water and apple vinegar; products which should not be used on it are solvent wax, linseed oil-based solutions, vitrified varnishes, black soap, acetone, abrasive powders and trichloroethylene.
Choose the right range
Vinyl flooring has different product ranges, of which the best known are slats, floor tiles and rolls. The first two can be self-adhesive, which means that they can be attached without using glue; the main advantage of  rolled vinyl flooring is its continuity, which helps to unify the room, whilst making it seem bigger and getting round the annoying problem of dirt between the joints.
In order to make the correct choice of range, you should assess the function of the place that you wish to floor: in a large lounge, slats imitating wood may be the ideal option, whilst in a bathroom or child's bedroom, a roll would be perfect.
When choosing PVC flooring, you must consider whether it incorporates a non-slip treatment, whether it features acoustic absorption and whether it is easy to install. You must also look at the quality in accordance with the UPEC classification, a certification system which incorporates a combination of numbers and letters (from 0 to 4), where the higher the value is, the greater the resistance of the vinyl flooring.
Easy to install
If you follow the manufacturer's instructions and you are skilled at DIY work, PVC flooring will be easy for you to install. The first requirement for installing it correctly is that the surface must be totally smooth, flat and without imperfections. As such, it is essential that you clean the previous flooring thoroughly; then you must divide the room into four parts and start the installation from the centre, if you are working with slats or tiles. If you have a roll, you should roll it out on the floor, leaving 5cm for the skirting board.
Where all product ranges are concerned, the experts recommend leaving the material and adhesive in the room where the flooring is to be installed for 24 hours before starting work. It is also recommended that the room has a temperature of around 15ºC whilst work is in progress.
Vinyl flooring is economical and relatively easy to install and maintain. In addition, it is extremely durable and more affordable than most flooring options.
When choosing your new floors, color obviously plays a role in your decision. Vinyl flooring comes in an assortment of colors and patterns. In addition, it is often made to look like other types of flooring. Talk about opening up your decorating possibilities!
Vinyl can be installed over ceramic tile, concrete, hardwood, or even non-cushioned vinyl flooring. Furthermore, it is noted for its stability and water resistance, which makes it a great choice for practically any room in a home.
Currently, there are two types of vinyl flooring, printed and inlaid. Printed vinyl flooring uses colored inks that are printed onto the flooring sheets. Inlaid vinyl flooring, on the other hand, actually has color particles pressed into the vinyl sheet.
The following are the advantages of vinyl flooring:
Comfort
Vinyl is a member of the "resilient floors" family, along with cork and linoleum. Resilient floors are known for their ability to "give" or "bounce back" upon impact. This makes them more comfortable underfoot for longer periods of time than several other types of floors.
Very Low Maintenance
With vinyl flooring, there is no need to purchase expensive products and equipment to clean your floors. For clean up, all you have to do is sweep regularly and use a damp mop to keep your floors sparkling. Spills can simply be wiped away with a damp cloth.
Quick and Easy Installation
Installing vinyl flooring yourself is very doable and, obviously, can save you money. Vinyl flooring comes in sheets, tiles and planks – tiles come in 12″ squares, while planks measure 3″ x 36″. Vinyl tiles and planks (especially the self-adhering kind) are a favorite of the do-it-yourself (DIY) set, and can be mixed and matched to create different designs and patterns. The other option is sheet vinyl, which normally comes in 6′ to 12′ rolls and, in most cases, is best installed by professionals.
One company that offers this is Great mats with their range of Tuff-Seal interlocking floor tiles which are easy to install. Using only a few simple tools, minimal subfloor prep and no adhesive, your new floor will be installed and ready for immediate use in no time. Tuff-Seal floor tiles are built to last, but can be moved or reinstalled in seconds without disturbing surrounding tiles.
Durability
Vinyl floors are generally covered with one of three wear layers (surfaces) to help them withstand scuff marks, stains, dirt and grime.
Vinyl no-wax is recommended for areas with very light traffic and very little exposure to dirt.
Urethane finishes are normally used for areas with medium to heavy traffic. They are more resistant to stains, scratches and scuffs than vinyl no-wax floors
Enhanced Urethane is the most durable wear layer. Vinyl floors that have an enhanced urethane wear layer withstand heavier traffic, and wear and tear. In addition, enhanced urethane keeps its original luster longer than the other types of coating.
One company that supplies especially durable tiles is Armortile-GD (garage duty) tiles. These tiles are specially made for residential and light commercial garage use. While our famous Armortile-HD is manufactured for the most demanding environments such as car dealers, repair shops, marine use and other similar applications, our Garage Duty tiles are manufactured for lighter duty use at a much lower cost per square foot and will give many, many years of superb service life.
Also Marvel Flex flooring is a heavy duty flooring used for applications that require good traction, long wearability along with stylish elegance. Flex flooring is a homogeneous multi layered vinyl product which is abrasive & wear-resistant. It can be designed and modified to fit special customer requirements, Anti Skidextra heavy duty traffic applications, special colours, sizes, thickness, width, and special physical and biological applications.
When you take into account all that vinyl flooring has to offer, it's well worth considering as an option for your next new floor.