Forklifts are handy machines that a growing number of business owners rely on. Whether you are engaged in retail, freightage, or any business that requires storage or cargo transfer, this vehicle will be of great help to you. Its use significantly shortens the time and scope of transfer, loading and unloading of various loads.
The basic function of a forklift is not transport but the ease of handling cargo in the first place. So, these machines are not made for long-distance use, but only within a certain area. Also, they have a certain capacity that doesn't need to be exceeded for the lift trucks to remain functional. Whether you are just starting to build it or are considering expanding, you can look for used forklifts for sale and find some pretty good deals.
Saving Money
Search for construction leads
First and foremost, purchasing a pre-owned forklift can save you money in several ways. Buying a new lift truck is an expensive venture, and you might not be able to afford it right away. A used machine can help you save money and avoid the long-term hassles that come with a brand-new vehicle.
Sure, a new forklift has a warranty period and will have less wear and tear. But pre-owned equipment can be in good shape, especially if you maintain it regularly. These machines are just as efficient at completing the same tasks as new ones.
With a pre-owned forklift, you can find most replacement parts at a lower price than you would with a new one. These are mostly vehicles several years old. There's probably a network of distributors for replacement parts that you will easily find and not overpay.
Familiar Design and Features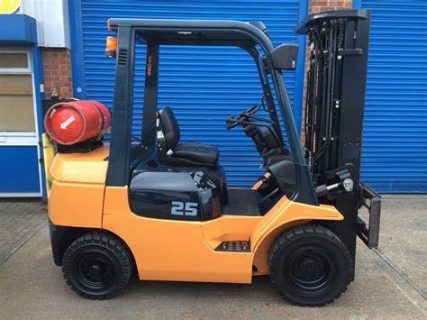 Buying a used machine can save you a lot of time. If you're familiar with the type of forklift you want (more about them read here), you won't have to wait for workers to learn how to use it. When you buy the same or similar model to the one you already have, working on a new machine will be a piece of cake. That will make your business more productive and ensure that you made a good decision on buying this pre-owned equipment.
A used forklift will have fewer problems and be less expensive than its new counterpart. Suppose you already have the same or similar vehicle. In that case, you probably have the necessary replacement parts and knowledge of its maintenance. That can save you from buying costly parts for new lift trucks and doing pricy repairs.
Sudden Need for Fleet Expansion
Purchasing a used forklift is a good idea if you need it for a single shift operation. Besides, a pre-owned lift truck is generally in stock, so it's ready for immediate use. So, you don't have to wait for your new fleet member for months, which is the case with most new vehicles. That can cause a lot of work backlogs and lost profit.
A used forklift is a smart investment if it's in good condition. So you should check its overall functionality before you purchase it. It's likely to last as long as a new one, so you'll be able to reap more benefits than just saving money on the initial purchase.
A used forklift has already been tested and worked in a rough environment. New vehicles often don't have better features than outdated machines; they just look better and more modern. So, you can get a higher quality machine for less money. That's a huge benefit for your business.
Occasional Need
Buying a pre-owned forklift may be the best option if you need it for occasional tasks. Used machines can provide you with many years of economic usage and thus pay off as the initial investment. Also, they can be a great choice if you're just starting your business. You could make a smart move by buying two used vehicles in good condition rather than one new machine.
On the following source, learn about the job of a lift truck operator:
https://www.careerexplorer.com/careers/fork-lift-operator/
Forklifts are the basis of your fleet's functionality. Used machines can benefit your business and do an excellent job if you know how to buy them. They can be just as good as the new ones and even bring additional benefits.