You might be great at what you do, but that won't mean anything if people don't know about your company and services. Getting more clients for your construction company can be challenging, especially if you are frequently on-site, working.
Gaining more clients is a constant work that requires some knowledge in advertising and marketing. Fortunately, there are a few simple, affordable strategies you can employ in order to get your company out there and attract new clients.
1.   Write a Great Construction Proposal
Search for construction leads
A well-written construction proposal will not only showcase your services and tell potential clients why you are the best in the business, but it will also act as a contract and a marketing tool for your company. We recommend that you start with a construction proposal template to save yourself some valuable time and make sure your proposals are presented in a professional way.
During the process of creating your proposal, you will be able to decide the project's feasibility and determine whether your client's expectations are realistic and achievable. If this is not the case, your construction proposal will allow you to offer a more realistic alternative.
A construction proposal can also help avoid conflicts during the construction. For instance, if the project owner asks you to do extra work that was not agreed upon at the beginning, you can refer to the proposal which shows exactly what you've been contracted to do.
2.   Use Social Media
These days, businesses of all industries and sizes are using social media platforms to attract clients and boost sales. Research has shown that 70% of business owners prefer Facebook when it comes to finding new clients, which means that it is the best place to start promoting your construction company.
The first step is to set up a business page and keep it up to date with pictures of your latest projects, customer testimonials, and dates when you are available to take on new jobs. This, of course, doesn't mean that you should post on a daily basis, but if someone is looking for a construction company and lands on a page that has not been updated for years, chances are they will continue their search.
You can also find niche-related Facebook groups in your local area where constructors either advertise their services or can find job requests to answer.
3.   Try Recommendation Sites
Recommendation websites are one of the best ways to build an online presence and get your construction business in front of prospective clients. Having a stamp of approval from such sites adds an extra layer of trust and security to your organization, especially if the reviews are positive.
However, it should be noted that most of these websites require you to pay a subscription fee, so you will need to consider whether this fee is worth the amount of business you are receiving in exchange.
If the answer is no, you should consider focusing on your own business website. Your site is the best place to showcase your business and post content that allows you to maximize its appeal, so be sure to invest in creating a clear, contemporary, and user-friendly product that will endear you to clients who are weighing up your suitability for their projects.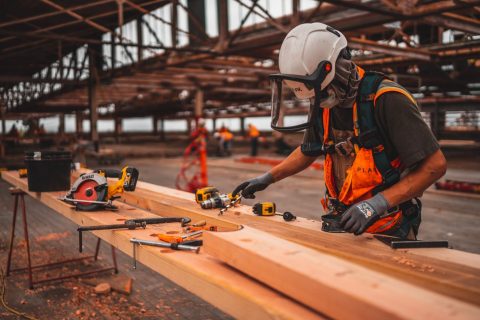 4.   Rely on Word-Of-Mouth
When it comes to finding new construction gigs, word-of-mouth is your best bet. It's simple: if past clients are satisfied with the work you have provided, they will recommend you to other people. Of course, this doesn't mean that you should rely solely on this method since it's somewhat passive.
If you want to be a bit more proactive, consider giving business cards that point to your website and Facebook page. You never know when a business opportunity might come up. Finally, you should also consider plastering your work vehicle with your construction business details (just make sure to keep things tasteful and understated).
Final Thoughts
If you want to increase the number of your clients and boost your profits, you can't just wait for people to discover your construction company. You will need to be proactive and start finding potential clients yourself. Advertising can be quite expensive but luckily, there are cost-effective methods (like the ones described here) to find the next construction project.