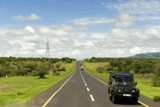 Germany is ready to finance construction of the envisaged Serengeti Highway which will traverse the southern part of Serengeti but avoid disrupting wildlife activity in the national park.
Amb. Khamis Kagasheki, the Minister for Tourism and Natural Resources said that the government of Germany has written to the government of Tanzania regarding the proposal and was waiting for a response.
The German Delegation that comprised two Members of Parliament from Germany told the minister that they are awaiting the results of a feasibility study on the southern part of the Serengeti to begin.
Construction of the Serengeti Highway which is supposed to cut through the national park has generated a heated debate regionally and internationally – many fearing that it would affect biodiversity including killing wild animals in road accidents.