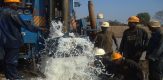 Nairobi County in Kenya has started drilling of 40 boreholes in a bid to address the ongoing water shortage as a temporary emergency measure. The boreholes, which are expected to be completed by the end of the month, are projected to cost$1.94m.
Also read:Survey reveals access to clean water in Kenya declines
Search for construction leads
The project comes at a time when the city is under inconsistent water rationing following a drop of water levels in Ndakaini dam. Water Cabinet Secretary Eugene Wamalwa said that the county and the national governments were working together, spending 10% of $9.7m set aside by the ministry for drought-stricken counties to sink boreholes.
In an opening of one of the borehole projects, Mr. Wamalwa recounted that the last time the country experienced drought was in 2013 the national government sunk 76 boreholes. The additional 40 are expected to alleviate the situation.
According to him, large projects being undertaken across the country are part of long-term measures to address persistent water shortage especially during drought seasons.
He also asserted that the northern water collector tunnel will reach completion in the next two years. The tunnel, which is expected to produce approximately 140m litres of water is expected to bring to an end the perennial water shortage in the city.
The PS, Fred Sigor, assured the people that the drilled water would be clean and fit for human consumption. He also called on city residents to use water sparingly and report to the Nairobi Water and Sewerage Company about any leakages.
The water firm was advised to increase the number of surveillance team in a bid to track water lost through leakages.
The county executive for water Peter Kimori said that the county has decided to seek for alternative water sources due to unreliable rain patterns, sighting an embarking on underground water sources, storm water and rooftop water collection by the government to supplement water they get from other counties .