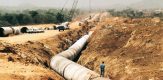 The government of Liberia has performed a ground-breaking ceremony to mark the beginning of construction of a raw water pipeline project in a bid to mitigate the water challenges in the country.
The project is part of the energy project under the Millennium Challenge Corporation (MCC) compact. It will replace the original 36-inch diameter pipeline that was destroyed during the country's civil war (1989-2003).
Project details
Search for construction leads
The pipeline will be situated between the dam of the Mount Coffee Hydro-power Plant, and the White Plains Water Treatment Plant. It will involve construction of a new 48-inch diameter pipeline project. It will be approximately 5 km long. Total cost of the project will be US $18m.
Upon completion the project, will improve the reliability and quality of the water supply to nearly one million residents of greater Monrovia. It will additionally improve water quality and save the Liberia Water and Sewer Corporation (LWSC) US $780,000 a year in electricity costs to pump water to its treatment plant.
Also Read:Projects to restore water in North Dayi, Ghana underway
"Our national development plan of the pro-poor agenda for prosperity and development focuses on improved service as a means of creating improved living conditions of all Liberians. Construction of the water pipeline shows a commitment towards the development plan. It will surely improve the water quality of Monrovia and its environs, and thereby improving the quality of the health of our people," said President Weah during ground breaking ceremony.
Access to water in Liberia
Only 25% of Liberia's population have access to clean water and 15% have access to sanitation services. Poor conditions persist more in the country's capital Monrovia where the pace of urbanization has exceeded the ability of the government to expand needed infrastructure.