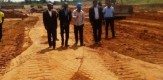 The construction of a 260km highway in Nigeria has been temporarily halted pending the conclusion of an Environmental Impact Assessment (EIA) on the project, the federal government of the country has announced.
Proponents of environmental conservation say that the highway would interfere with Cross River National Park and the adjacent lowland rainforest, proposed by UNESCO as World Heritage Site and recognized as a biodiversity hotspot.
Search for construction leads
Conservationists also argue that the Superhighway construction in Nigeria will negatively affect critically endangered gorillas in the area numbering about 300.
The highway in Nigeria is expected to serve as an evacuation route for cargo from the proposed Bakassi Deep Sea Port in the southern part of the state to the northern part of the country via Gakim in the northern part of the state.
But Cross River State governor Ben Ayade says that the highway will by no means degrade the environment. He urged the Head of Service of the Federation, Mrs. Winifred Oyo-Ita to contribute on the project for a smooth completion on scheduled.
He further urged the State resident not to disregard the technical aspect of the project which he noted was important to the socio-economic development of the state.
Last years Odey Oyama, executive director of the Rainforest Resource and Development Centre  said that governor Ayade and the project architects did not declare how they will compensate indigenous groups and local communities in places where the road passes through on the forest and agriculture land on which they depend. He also questioned about the transparency of the project that is slated to take 4 to 5 years.
It remains to be seen how the superhighway construction in Nigeria that has been marred by environmental concerns pans out, but for now construction has been temporarily stopped/