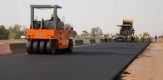 Nigeria has flagged off rehabilitation works of Osisioma–Owerrinta road in Abia State measuring about 16.9 kilometres. Abia Governor Okezie Ikpeazu inaugurated the project.
The road project links Osisioma Ngwa and Isiala Ngwa South local governments. It has been awarded to China Gezhouba Group Corporation (CGGC) Construction Company and is aimed to ease the traffic from Aba to Owerri. Construction works is estimated to cost US $11m.
Search for construction leads
Also Read:Uganda awards contract for US $146m Mpigi-Busega expressway project
Osisioma–Owerrinta road
Despite being a strategic road connecting commuters to key business areas including the Nigeria National Petroleum Corporation (NNPC) Depot in Osisioma Local Government, the road has been abandoned and left in a state of decay by previous administrations in the state.
Abia State had been reluctant to bear the burden of reconstructing the road which is classified as a federal road. However, due to the hardship the bad state of the road regularly subjects travellers to and its role in impeding business operations, it impelled the goevrnement to intervene
"The Chinese government-owned CGGC has handled several projects successfully in Nigeria including railway lines and some of our buildings and will not disappoint with the governor and Abia people," said Governor Okezie.
On his side the  Project Manager, Mr Bin Ma, affirmed the company's commitment to share technology, experience and management skills with Abia people and readiness to complete the road according to specifications and with speed.
CGGC, which established its North-west Africa headquarters in Abuja in 2016 has been involved in several high value projects across Nigeria. In addition to winning the bid for the ongoing 3000 mega-watts Mambilla Power Project valued at US $ 5.8bn, CGGC is involved in the rehabilitation and dualization of the Aba-Ikot Ekpene Road having successfully completed the US $16.5m Baro River Port in Niger State.