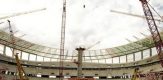 A number of top South African construction firms are being sued over alleged collusion during the construction of stadiums in the climax to the 2010 FIFA World Cup that was held in the country, Cape Town Mayor Patricia de Lille has confirmed.
She said that the city had applied to the Pretoria High Court to recover the US$2.1m that the companies owed it, this is after reports that no provision was made in the settlement between the government and the companies for municipalities to get compensation.
Search for construction leads
As per now, the Johannesburg and Tshwane metros are still weighing their options on recouping the reported US$ 8bn that was lost due to the reported conspiracy but the Cape Town metro confirmed that it has instituted claims against the companies.
The Presidential Infrastructure Coordinating Commission also ruled in favour during the case that the companies should raise a collective US$ 106m for a fund to advance transformation in the sector, however, none of the municipalities have been compensated for the money that they lost from the implicated companies that include WBHO, Aveng Africa, Stefanutti, Murray & Roberts and Basil Read.
Also read:More trouble for construction sector in South Africa
The stadiums that were built and renovated nationwide for the FIFA World Cup event are Moses Mabhida Stadium (Durban), Royal Bafokeng Stadium (Rustenburg), Loftus Versfeld Stadium (Pretoria), Mbombela Stadium (Nelspruit), Peter Mokaba Stadium (Polokwane), Nelson Mandela Bay Stadium (Port Elizabeth), Greenpoint Stadium (Cape Town), as well as Ellis Park and FNB Stadium (Johannesburg).
The estimated losses due to the collusion in the South African city was US$ 21m to US$ 63m