The Stantec-designed Willowbrook/Rosa Parks Station Improvement Project in Los Angeles recently reached substantial completion. Design for the $129 million project for Los Angeles County Metropolitan Transportation Authority (Metro) was led by Stantec's Los Angeles office. The project reimagines the station as a community catalyst to serve the historically underserved neighborhood. The station provides an expanded and more efficient passenger experience, improved connections and pedestrian safety to the surrounding community, and streamlined rail and bus transfers and connections.
Stantec provided architecture, lighting and urban design, and design support during construction on the critical multimodal project. Key subconsultants, many of which are disadvantaged business, include BASE Architecture; Kimley Horn & Associates for transit planning and civil engineering; Miyamoto International and PacRim Engineering for structural engineering; PBS Engineers for mechanical, plumbing, and electrical engineering; AHBE/MIG for landscape architecture; and Pacific Railway for train system signaling.
Also read California High Speed Rail (CHSR) project
The Willowbrook/Rosa Parks station has the fourth-highest volume of Metro ridership, serving more than 30,000 riders each day. Built more than 30 years ago, the station required significant improvements to its design layout as a multimodal transit hub. The Stantec team developed a modernized and user-friendly station designed for the transit patron, including:
• Rosa Parks Metro Customer Center: The new center includes a new customer service storefront, ticket/tap card kiosks, a transit security station, and a Metro transit court.
• Station Remodel: To improve facility functionality, the Stantec team's remodel extends the platform and mezzanine connection. It provides greater capacity and daylight for those using the platform and features a new and safer pedestrian crossing across Metro and Union Pacific Railroad tracks to the bus terminals, new elevators and stairs between the A and C lines, a new dedicated drop-off location, and additional dedicated bus bays.
• Metro Bike Hub: The Bike Hub provides a secure and protected space for bicycle parking and a vendor area for a bike supply and maintenance shop.
• Community Plaza: This open-air space with large planters and seating areas serves as a public resource to be used for community events year-round to enrich and celebrate the Wilmington community.
• Community Art: The artist team Jamex & Einar de la Torre, in partnership with artist George Evans, created site-specific artwork for the station. The art explores the legacy of Rosa Parks and the memory of the civil rights movement and offers a vibrant, bold, and uplifting complement to the station improvements.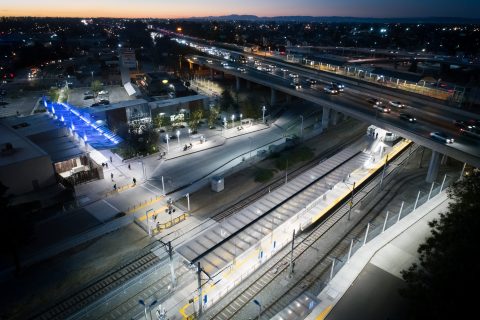 "This is an exciting moment for our entire Stantec design team, as we put the final touches on this critical community project," said Amy Chang, Stantec senior project manager, based in Los Angeles. "The revitalized facility will provide thousands of patrons with improved access to many of LA's most critical amenities, while enhancing the busy station's role as a key community resource."
"We are proud to have built one of the more modern transit hubs in the entire Metro system for the residents of Willowbrook and surrounding communities", said Paul Whang, Metro Senior Director Project Engineering. "In addition to the rail platform improvements, the upgraded station provides more bus bays, a full-service bike hub, a new customer service center with transit court and landscaped public areas to provide new Metro services and a welcome experience for the community."