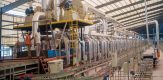 The expansion of the electricity network in Kapeeka Industrial Park in Nakaseke District of Uganda has begun after US $354,575 was made available for the project. Kapeeka which is one of the private industrial parks in Uganda already has activities line up to boost the economy.
According to Finance Minister Matia Kasaija the government aims to speed up industrial growth by supporting infrastructural development for all proposed industrial parks including Kapeeka.
The expansion
Search for construction leads
During the expansion, Umeme Limited will add a 15Km line to pick power from a transmission substation and move it to the manufacturing estate. Umeme will also put up 19 transformers to serve industries in the estate according to Project Manager Eng David Sserunkuma who also said the project will be completed in three months' time. "Once the project is complete we will be able to provide abundant and reliable power supply to factories in the park," said Engineer Sserunkuma.
Also Read:Uganda to connect 15,000 households to the National Grid by end of September
Moreover, according to statistics from the Ugandan government as of March 2019 the electricity generation capacity was at 1,179MW and after several key hydropower generation projects including the Isimba Hydropower Dam the national high voltage electricity transmission grid now totals 2,258km.
Kapeeka Industrial Park
Kapeeka Industrial Park houses major industry players including Goodwill Uganda Ceramics Company, Ho & Mu Food Technology, and Yahe Maize Mill. Other factories under construction at the park include Jindi agro-processing, Jiaxing Jufeng Electric Wire, Haohua Textile, Jiajia Uganda Food Factory, and Tidefish International Trade Company.
Holley Group, a Chinese-owned company will expand the park from 2.6 square kilometers to 5 square kilometers to ensure that there is enough power in the park according to the Energy Ministry. The Ministry of Trade notes that the government in collaboration with the private sector will develop and upgrade infrastructure to promote industrialization.