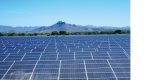 Zimbabwe is set to construct a solar power plant that will go a long way in solving its power deficit after inking a deal with the United Arab Emirates (UAE). While operating at full capacity, the power plant will generate 2000MW of power.
The project will be implemented in phases. The first phase is expected to produce 1000MW, roughly the same size as Kariba South Power Station's output, when operating at full capacity.
Search for construction leads
The revelations were made by President Mnangagwa while addressing youth at the National Youth Convention at Rimuka Stadium. Once the first phase has been completed, another 1000MW plant will be constructed. Construction is expected to take 18 months to complete.
Also Read:US $154m Deal inked to repower Zambia with small-scale solar plants
Improved power generation
President Mnangagwa further added that power shortages will be a thing of the past in the next one-and-a-half years. This is because generation was expected to improve when the expansion of Hwange Thermal Power Station units 7 and 8 was completed.
The expansion, which will see an additional 600MW being fed into the grid on completion, is being undertaken with the assistance of China at a cost of US $1.5bn. The Hwange extensions will be generating power 24 hours a day.
While solar only works in daytime, experts say Zimbabwe has in Lake Kariba what amounts to the world's largest storage battery, especially as Kariba South Power Station is now oversized for the river flow. That is, it cannot run flat out 24 hours a day even in good rainfall years.
However, with large solar installations, Kariba South can be switched off during the day, keeping the daytime ration of water in store. At night, the power station can use the whole 24-hour ration of water in just 12 hours, keeping Zimbabwe's lights on until the sun rises the next morning.