The Rubik is a US $36.2m luxury mixed-used development under construction in the heart of Cape Town's Central Business District (CBD), South Africa by Abland and Giflo has begun. The Rubik transforms the central-city location from having previously offered just three storeys of conventionally designed retail space to offering a truly mixed-use approach to urban planning and development.
In addition to its 79 residential units, the project offers businesses the opportunity to secure office space in the heart of Cape Town's commercial and retail district, in a building that's designed for discerning individuals who appreciate elegance and unique, modern architecture.
Also Read: US $280m River Club development to be built in Cape Town, South Africa

The Rubik
The Rubik offers its sectional title apartment owners a choice from 46 one-bedroom, one bathroom units, 24 two-bedroom, two bathroom units, and nine two- and three-bedroom duplex and triplex penthouse units, with purchase prices starting at US $155,798.24. The residential units on the building's upper nine floors will bask in 360 degree views of Table Mountain, Lion's Head, Devil's Peak, and the V&A Waterfront.
The residential units are above seven floors that offer 5,000 square metres of centrally located office space, available to rent or to purchase on a sectional title basis. Residents and commercial tenants, via their separate entrances, will benefit from easy access to restaurants and upmarket retail outlets located on the building's ground- and first floors.
Designed by the team at dhk Architects that created 35 Lower Long for the same development team, The Rubik includes state of the art security and access control systems, separate entrances and lifts for commercial and residential occupants, and a 24-hour concierge.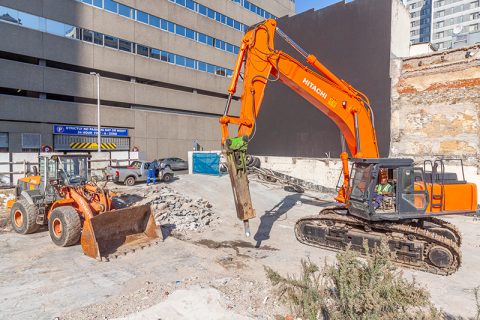 While some apartments and penthouse have private balconies, the building's shared facilities include a roof-top braai and pool area with panoramic views over the Mother City, with energy-efficient design complemented by standby power generation to avoid the effects of load-shedding.
The Rubik enhances the City of Cape Town's status as a cosmopolitan location that offers idyllic work, live, and play property solutions, perfect for investors who want to secure a solid buy to rent property, or for executives seeking a complete lifestyle solution in the heart of one of the world's most beautiful and exciting cities.
With more than half of the residential units already sold, time is running out for investors to secure their share of The Rubik, which is scheduled for completion and occupation by August 2023.
Project Team
Client – Abland Property Developers
Architect – dhk Architects