Hazina Towers, also known as Hazina Trading Centre, is a commercial building under construction along Moktar Daddah and Monrovia streets in the central business district of Nairobi the capital and largest city in Kenya.
Also Read: The G47 Ugatuzi Tower in Hurlingham, Nairobi, Kenya
Poised to become East and Central Africa's highest tower in terms of floor space, the construction of the 39-floor Hazina Towers begun back in 1997. The design of the building, which would also feature a helipad and viewing gallery for Kenya's high and mighty to catch a glimpse of the city under the sun, was inspired by the outline of a Maasai Moran standing with a crossed leg and leaning on his spear – a great architecture that would further beautify the Nairobi skyline.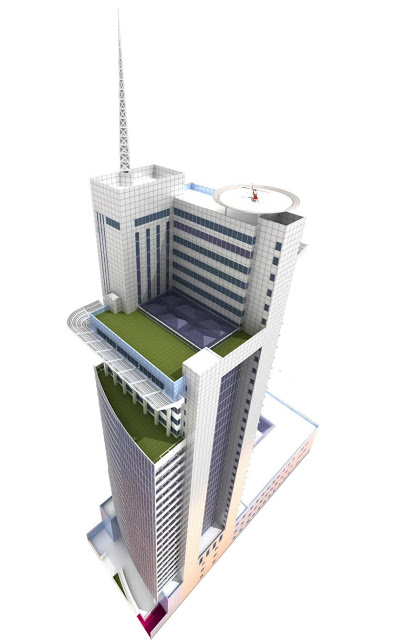 However, construction stalled at 8 stories due to financial difficulties faced by the project developer, National Social Security Fund (NSSF). In 2003 NSSF leased the eight-storey structure to Nakumatt Holdings limited.
Construction resumed in June 2013 and was to take 155 weeks to completion, but in October 2016 NSSF suspended the works, which had reached the fifteenth floor, following a report by the Ministry of Public Works that it would be unsafe to go beyond 25 floors. The report indicated that this was because the existing structure beams did not have the capacity to support the building of that magnitude.
After considering other options, including reinforcement of the beams, NSSF decided to put an end to the project on the 15th floor. Currently, the retail section of the tower is ready for immediate use while the office wing is still under construction.
Amenities
Hazina Towers feature a retail section with a supermarket, panoramic lifts, escalator access, and food court; four level KAPS basement parking; rooftop gym and restaurant; stand by generator provision for all sections, eight high speed lifts to office section including a goods lift and VIP lift; CCTV surveillance to common areas, firefighting equipment including alarms and sprinkler system to all areas; and frontage to both Monrovia and Moktar Daddah Streets which are Tarmacked to adoptive standards.
Project team
Developer: National Social Security Fund
Architect: Mruttu Salmann & Associates
Main Contractor: China Jiangsu International Construction