Do you consider Africa an important market for your products?
Africa has always been one of our key markets due to its potential in the asphalt and concrete sectors, driven by the extensive programme of construction planned for roads, airports, housing and other construction and infrastructure projects across the region.
In more recent years we have seen work really gathering pace as countries in Africa implement more ambitious projects and continue to catch up with global counterparts. According to Research and Markets the African asphalt plant market is expected to grow significantly and the concrete plant market is expected to reach US$35.6 Million.
There are several countries in the continent that really stand out. For example Ethiopia, which is predicted to be one of the world's most rapidly developing countries. Estimates suggest 25% of the state's infrastructure budget is currently earmarked for roadbuilding as the plan to extend the nation's road network to 20,000 km rolls onwards.
Angola is another country where we see great scope for progress, as the road network undergoes extensive upgrading, with more than 13,000 km slated to be asphalt covered. Nigeria is also becoming an increasingly important market for us, with several large-scale projects in the pipeline as part of the Nigerian Government's infrastructure drive.
For our range of concrete plants from our Lintec and Eurotec brands, we have recognised Ghana as a key market. Here, demand for cement is expected to rise from 8.8 million tons in 2017 to 12.5 million metric tons this year, which should result in increased demand for ready-mix concrete and consequently concrete plants.
Similarly in Algeria the once prominent oil industry is in decline and this has prompted the local government to encourage individuals and businesses to explore opportunities in other sectors, such as construction. Although impacted by the Covid-19 pandemic, the industry is expected to bounce back and we will be following this progress closely to identify future opportunities.
Do you have branches distributors / agents in Africa? 
We have distributors across Africa with each one targeted to the local group of stakeholders. Not only does our distributor network provide sales and after sales support to our customers, but they also allow us to maintain our strong foothold in local markets and give us a platform for future growth.
Have you supplied your products to any projects in Africa?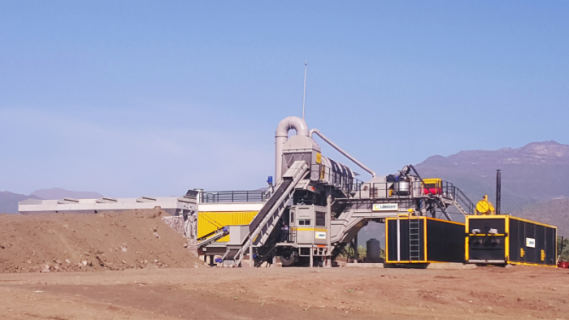 Over the past 30 years, we have provided plants for numerous projects across Africa. One of our installations was a Linnhoff TSD 1500 MobileMix asphalt plant delivered to a customer for use on a grade separation project on the Tema Intersection in Ghana. We've also supplied several plants of the same model to major Ethiopian Roads Authority projects, where they have helped to develop and upgrade the road network. The Linnhoff TSD 1500 MobileMix asphalt plant is a perfect option for our African customers as it is designed to provide a high asphalt production and optimal mobility, which is a great combination for large-scale road projects in landlocked countries.
In terms of concrete plants, we've provided a Eurotec Smart45 concrete plant to a customer in the Nigerian state of Aba Abia. The Eurotec Smart45 is also a perfect choice for Africa as it offers a 45m³ an hour output whilst occupying a relatively small footprint on site. The plant's compact and modular engineering allows it to be deployed quickly and cost-effectively. In Tanzania, a customer selected our Eurotec 3ECO50 concrete plant along with the Eurotec Pan Planetary concrete mixer, to build the Tazara Overpass, the first flyover in Dar es Salaam. In addition, a number of Lintec asphalt plants have been involved in major projects in Africa. These include a Lintec CSD4000 containerised asphalt plant that was involved in the Yaounde-Douala highway project in Cameroon; and a Lintec CSM4000 that worked on the Addis Ababa-Adama Expressway project in Ethiopia
In your country would you consider yourselves amongst the top 10 in your field? 
Lintec & Linnhoff has always focused on the quality and reliability of our equipment. In terms of products and service we are undoubtedly a market leader that strives to deliver highly efficient, reliable and cost-effective plants to customers. We are proud of the strong relationships we have with our customers, and it is often this that has allowed us to gain the confidence of new clients.
About Lintec & Linnhoff
Lintec & Linnhoff is a global manufacturer and distributor of leading-edge solutions for the asphalt and concrete industries under the Lintec, Linnhoff and Eurotec brand names. Its products include asphalt mixing plants, concrete batching plants, pavement related technologies and machinery, and specialist concrete cooling solutions.
All its machines are engineered to the highest levels and exceed global standards for environmental impact, recyclability and reusability. The company's key technologies include Lintec's containerised asphalt and concrete batching plants built in 100% certified ISO sea containers and Linnhoff's screen drum technology.
Lintec & Linnhoff combines the craftsmanship, precision and engineering expertise of its German heritage with the exacting standards required to serve the varied needs of the global construction market. It provides purpose-built solutions to customers that are supported through its team of global experts and distribution partners.
Lintec & Linnhoff machinery has helped deliver some of the world's most prominent construction achievements, including: the Hong Kong-Zhuhai-Macau bridge; Abu Dhabi's Yas Marina Circuit; The Palm Island, Dubai; and the Storebaelt Bridge Denmark.