The telescopic aerial platform forSte 18T SPEED is a telescopic truck-mounted platform, with automatic vertical stabilization as standard. It is a platform that stands out for its versatility and compact dimensions, as well as excellent work performance that makes it one of the best-selling and best-valued telescopic platforms in the sector.
Now, thanks to the automatic SPEED stabilization, the platform is able to obtain a very fast and safe stabilization, occupying the minimum space possible for the vehicle thanks to its vertical stabilizers, making the most of both space and work time!!!
Due to its functionality, reliability and ease of use, the forSte 18T is one of the favorite platforms in the aerial platform rental sector. It is one of the most requested telescopic platforms for work in urban areas or areas with difficult access, as well as in industrial areas.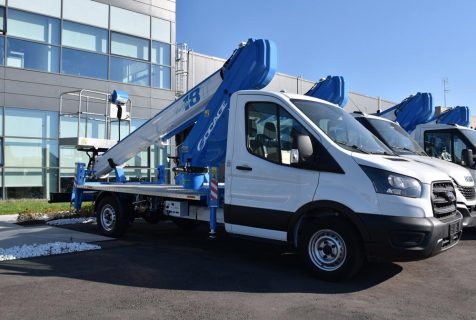 Free weight for equipment and customization
One of its great advantages is the reduced weight of the assembly, which facilitates a great customization capacity, being able to add extra equipment depending on the needs of each client.
The evolution of the components together with great technological advances, make the ease of use of the forSte 18T possible. It is a telescopic aerial platform that increases safety with a very intuitive and friendly operation and operator assistance. The advanced hydraulic installation guarantees fluid and proportional movements, with absolute control of maneuvers, even simultaneous.
On the other hand, the design of the over chassis and the over structure together with the arms with advanced high resistance steel profiles (SPP) make this platform robust, light and of high quality.
Automatic stabilization SPEED | Just one click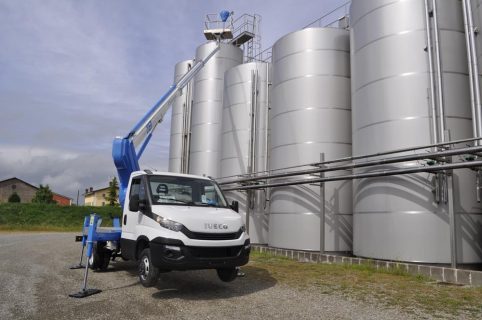 Its technical characteristics include its working height of 17.70m and a lateral reach of 10m, as well as a load of 300kg (2 operators + material).
The 18T platform has automatic SPEED stabilization as standard, an innovative system that makes it easier for the operator to stabilize the platform on a truck with a single click, also providing safety.
Just with a button, even from the basket, the perfect stabilization is achieved automatically, very quickly and safely. With the same system we can perform the automatic closing of the aerial part.