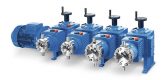 Zonke Engineering whose vision is to create a truly South African process equipment supply business has added several pump types to its existing product range.
The new pumps range compile of rotary lobe pumps from pumps designer and producer Börger, plunger pumps from Kamat, reciprocating positive displacement pumps from Abel pumps and high-pressure dosing pumps from pumps specialist Lewa.
Search for construction leads
Zonke Engineering Managing Director, Mr. Brandon Loots confirmed the news and said that the additions which were launched at the beginning of last year aim to bring the world's best pump technologies to the South African markets.
These additions will be housed under the company's fluid transfer division.
"These additions will be housed under the company's fluid transfer division – launched at the beginning of last year – and aim to bring the world's best pump technologies to South African markets," Zonke Engineering MD Brandon Loots said.
"Abel's positive displacement pumps, for instance, are designed to suit varying flow rates and pump pressures. Depending on the design, Abel's pumps are also suitable for abrasive, aggressive and even shear-sensitive media," said Mr. Loots.
He added that every Abel pump can be adapted to meet the individual requirements of the application.
The addition of the Lewa brand allows for Zonke's offering to include dosing pump technology for the upstream and downstream oil and gas industries where metering accuracy is a requirement, while Börger's self-priming and valve-less pumps are suitable for crystalline mixtures, toxic liquids and sensitive media applications.
On the other hand, Kamat has been a leading international system supplier of high-pressure technology for more than 40 years and its powerful, versatile high-pressure pumps can be found in almost all industrial fields, including mining, industrial cleaning and water jet cutting.
Other pumps featured under the new division are compressors and air separation units producer SIAD Macchine Impianti's reciprocating compressors, canned motor pumps from canned motor pumps supplier Teikoku and centrifugal pumps manufacturer Bungartz's centrifugal pumps.
The newly expanded fluid transfer division has further established repair facilities, in Secunda and Durban, and now offers the full service of replacement, spares and repairs for rotating equipment.
Zonke Engineering plans to expand its footprint to Angola in 2018 and is aiming to expand into Mozambique and Tanzania this year.
"We have recently concluded a partnership with renewable- energy company Ntuanano Energy, in Mozambique, and are working on the Kapone power plant project for diversified construction company Group Five, in Ghana, which includes the supply of storage tanks and Bungartz pumps, as well as a heat exchanger project, in Botswana," says Loots.
The vision of the company is to create a multi-disciplinary business that provides a service for the heat, mass and fluid transfer industries, as well as the niche equipment supply industries, to the absolute satisfaction of their clients and ensures a return on investment for their shareholders.