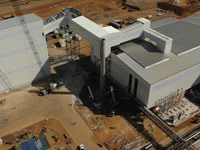 Consol Glass new factory in Nigel, South of Johannesburg, is a 'Greensfields' development that consolidates its regional operations, furthers its market strategy and uplifts the local community.
Plastic maybe unbreakable, but the reputation of glass is undeniable. Glass packaging has many benefits making it a popular and preferred liquid packaging commodity of choice.
Whether in its returnable form, which is the cheapest packaging option, or in its non-recyclable form, it has a premium image that is directly proportional to the edge it has in its intrinsic qualities. Qualities such as its ability to preserve true flavour and shelf life; its clarity; shape; stylishness; including its versatile use for products such as perfumes to liquor, gourmet and baby foods and much more.
In recognition of this Consol Glass, through the construction of its new 'greensfields' factory, is demonstrating its commitment in growing the glass market and to meeting current and future market demand. As the largest glass manufacturer in Africa, Consol Glass takes a long-term approach with all its decisions and the Nigel plant is no exception and is an investment into the future sustainability of the glass making industry.
The R1.9bn plant's production capabilities have been designed with flexibility in mind and the technology deployed will be capable of producing its complete range of products. In terms of optimising the Consol Glass footprint, the first phase will be focused on clear (flint) glass production for the beverage markets, yet depending on market demand, may evolve to products for other glass markets.
The plant's 50ha site is capable of facilitating up to six furnaces upon completion in September 2011. The current design is initially for a two-furnace operation, each with an output of 400 tons per day.
Once the second furnace is complete, the additional capacity at Consol Nigel will increase Consol's annual glass packaging output by a further 25 percent (220,000 tons), elevating its total glass production to over one-million tons per annum (in excess of an estimated 4-billion glass containers).
Green Designs
Though environmental-friendly buildings has yet to be an industry mandate, many companies have embraced the concept and readily employ green solutions into their developments' design and company ethos. Consol Glass has not been left out. As part of their commitment to the environment, Consol Glass investigated the most appropriate Energy Efficient (EE) applications for the new plant.
FACTORY PROVISIONS
Starting with the most energy consumptive item, the furnace, the plant's furnace has been designed to yield a total energy saving of up to 20 percent compared to older units.
The compressed air and cooling fans, the second largest energy consumers, are newly installed forming machines that consume less compressed air and cooling wind, hence contributing to electricity saving on the fans, compressors and other site infrastructure.
To a lesser degree, yet still significant in power usage are the annealing ovens. Consol Glass has invested in the most energy efficient gas-fired units available today. These units are not only efficient with energy delivery, but are comparatively lower in carbon footprint than previous annealing ovens.
LIGHT & SHADING
The admin block's design and orientation has a number of energy saving application, such as provision for ample natural light to permeate the building reducing reliance on electrical light.
When artificial light is necessary, it is not wasted, as the lighting system is equipped with motion-sensor, switching on and off depending on the occupancy of a room. Having natural light is therapeutic and bodes well for saving on the light bill.
However, excessive sunlight can increase heat gain making the environment uncomfortable. Circumventing this, the admin block's design includes solar performance glass. This application reduces radiant heat loads into the offices and minimises air conditioning.
Supplementing this are the extended roof eaves, window louvers and overhangs that regulate the amount of sunlight into the building. Furthermore, ceiling voids are equipped with thermal blankets to assist heat into the building in summer and limit heat loss in winter.
WATER USE
Water usage is an important component of any green design and Consol Glass has enlisted a number of applications to address the new factory's use of water. A portion of the factory being on a wetland, necessitated a comprehensive storm water design in order to preserve this area.
This has manifested into an onsite retention pond that slowly releases water from the site. Indigenous plants, which comparative to exotic plants have minimal requirement for water, have been selected for landscaping to reduce water consumption.
RECYCLING
In order to optimise energy efficiency, minimise demand for raw materials all the while saving money, Recycling remains a key internal focus for the Consol Group. Hence the new factory is equipped with a basic cullet processing facility to recycle all waste produced at the site.
Many developers are reluctant to incorporate green solutions into their developments due to the perceivable heightened capital investment, which they feel will benefit the tenants, not them.
Regardless of the reasoning, it is forthright and shows a sense of personal and corporate social responsibility to the environment and the future generations to inhabit it.
Mutual benefits for local community and Consol Glass
The local Nigel community, including residents, employees and businesses stand to benefit in a number of ways throughout the various phases of the factory including construction stages and after. As a direct result of the presence of the factory, the area has experienced development in infrastructure, employment and community development projects.
Additionally, Consol Glass has significantly contributed to education provision by donating capital for school expansion and renovation projects. Once the factory is completed and operational, many local companies may benefit through being service providers for the factory, increasing capital injection into the community and catalysing complementary businesses in the area.
Client
Project Manager
Consol Glass
Site Construction
Technical Design
Meprotech
Architect
Capex Projects
Engineering Consultants
BMS Baker (Civil & Structural)
Washtech (Mechanical)
Marcus Kneen (Electrical)
Environmental Consultants
W&L Consultants