Located in Nairobi's Westlands area, the Kingfisher Apartments development is a refreshing take on contemporary design. Its signature curves and colours create an iconic presence that stands out from the rest of the buildings in the neighborhood.
"The curves were born out of nature, specifically, the curves of the Hell's Gate gorge in the Rift Valley," explains Marco Carolei, co-founder and Director of Avanti Architecture Limited.
Search for construction leads
He adds, "Our approach to designing the building was focused on efficiency to meet the client's brief for a market driven development which would be a landmark in Nairobi's cityscape.
The name, Kingfisher Nest, came later, towards the end of the design process, as part of the brand identity of the building. The architects had been experimenting with various color studies, finally settling on the eye catching combination, derived from the colors of the kingfisher bird. The client's favorite bird.
Allocation of the colors was a design driven process, taking into account the needs of the building. The dark blue is the perfect camouflage for the parking area, the colors then get lighter towards the top floor with sea blue flowing into lime green and finally orange which catches the afternoon sun.
The 11 storey building is symmetrical on both cross and longitudinal sections with an atrium in the middle. Further pursuing the kingfisher theme, the two wings of the building are named Tree Court and River Court; the bird's traditional habitats.
The atrium ventilates and illuminates the building whilst adding beauty and whimsy. As the day waxes and wanes, the rays of the sun play magically across the heart of the building. The 2 sky bridges on the 4th and 8th floors offer connection points between the two wings while maintaining the openness of the atrium.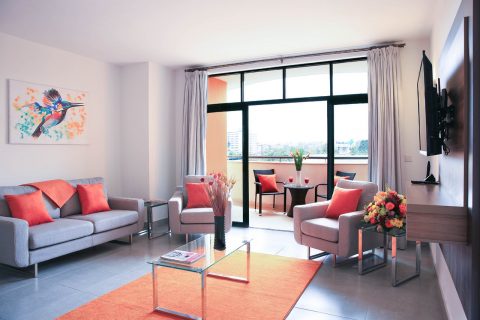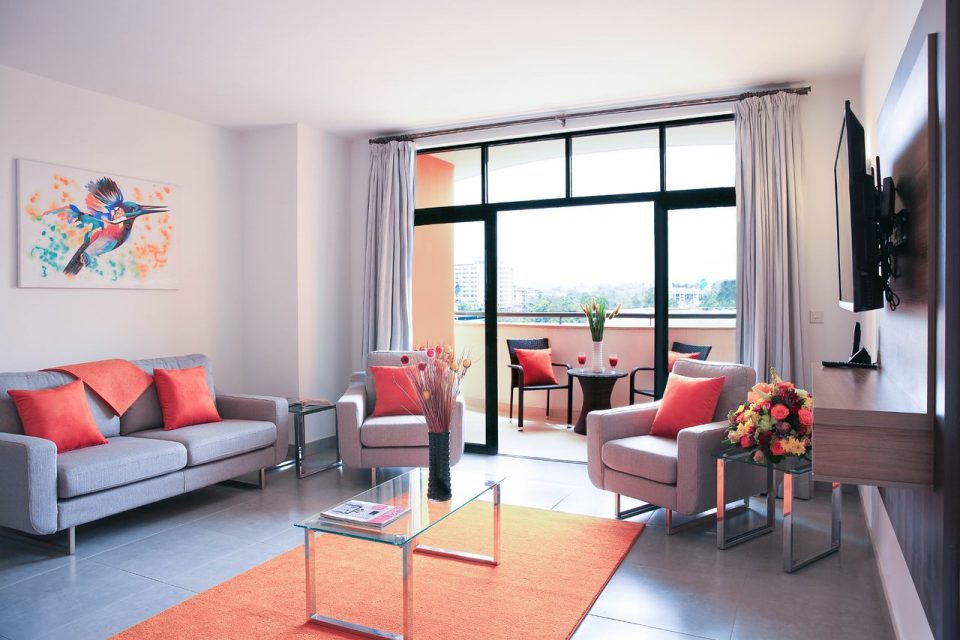 For such a vibrant facade, the interior of the building is tastefully minimalist. Its monochromatic shades of grey are the perfect backdrop for the colorful signage, an echo of the building's exterior colors. The 53 apartments all 2 bedroom as well as an infinity pool, gym and bar on the rooftop, ensure that this development delivers on what the market desires in an unbelievably convenient location.
Features and Facilities
The building has the following to offer:
Each apartment has one en suite bedroom with a second shared bathroom.
Contemporary kitchen with separate kitchen yard.
Master bedroom and living room open into the balcony.
Ample parking with a drop off area for guests outside the lobby.
Amenities include rooftop gym, bar and recreational swimming pool.
Solar water panels and a heat pump for the pool.
Landscape design carefully chosen as a living complement to the building's interior.
Controlled access to ensure 24 hour security including CCTV cameras and security guards.
Standby generator.
Borehole facility.
Wireless connectivity for guests