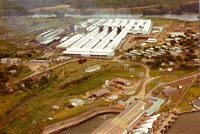 Following the approval of the US$132 million package for the construction of Lom-Pangar Dam, the World Bank Director of Operations, Gregor Binkert, has said his institution will be disbursing the money by midyear.
"In principle, the disbursement by the World Bank is earmarked for June/July this year", he said, underscoring that the French Development Agency, one of the project financing partners will approved its financing in May while the European Investment Bank will finalized its own in June.
The project is considered as the live wire of the Cameroonian economy.  "It is an important project which opens new perspectives for Cameroon. It goes beyond the simple production of electricity", Binkert told reporters.
According to the World Bank official, the project will boost activities in the agricultural and industrial sectors as well as facilitate the construction of several other dams.