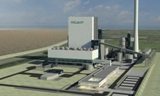 Egypt Minister of Electricity and Energy Hassan Yunis attended the signing ceremony of two contracts worth US$247million for Suez power plant whereby a steam turbine and a condenser are to be provided.
Yunis said Suez electricity generation steam station is one of the projects of the five-year plan 2012/2017adding that it will be operational in December 2015.The 650-mw power plant will be linked to the 500-kilovolt unified national power grid as well, he added.
The station contains a steam boiler that uses natural gas and heavy oil as fuel, a steam turbine, a condenser and a generator, he pointed out.
Meanwhile President Mohamed Mursi has said new power plants will be established in order to reduce the issue of power cuts all over the country. Mursi stated that he is keen that electricity should become as available as air and water adding that the excess load on electricity this summer is much more than any other year which causes power cuts all over Egypt.
A 500-megawatt power plant will be in service soon in Damietta and a 650-megawatt plant in Alexandria. This will increase the electricity supply which will consequently decrease the rate of power cuts.