Kilimanjaro Airport serves as the main gateway to tourism in Tanzania. It is owned by the Government of Tanzania. Meanwhile, Kilimanjaro Airports Development Company (KADCO) is its operator.
As a whole, the project spans an estate of 109 square kilometers and, is still in progress. Currently, upgrade works are been carried out on the airport's car parking lot. Thus, some of the existing parking lots are under closure. However, temporary parking lots have been open for parking.
Search for construction leads
The Kilimanjaro Airport Project enables tourists as well as wildlife enthusiasts to visit natural attractions, especially in the Northern Circuit. Moreover, the airport's strategic location is 40 kilometers East/Southeast of Arusha.
Reported On 18 March 2015
Tanzania: expansion of Kilimanjaro Airport to cost US$40m
Kilimanjaro International Airport (KIA) officials have signed a US$ 40m agreement for the renovation and modernization of the airport. All in an effort to increase the number of travelers and airlines it can handle.
The upgrading project will involve the extension and renovation of terminal buildings, runways, aprons, and taxiways. Alongside, the installation of new airfield ground lighting and floodlights. The tender for the airport upgrading project was awarded to BAM International of the Netherlands. It aims for completion by 2017.
The Kilimanjaro Airports Development Company (KADCO) Managing Director, Mr. Bakari Murusuri said that the agreement is between KIA management, and the BAM International officials Mr. Harko Kloeze, East. Alongside, Central Africa's Managing Director, and Mr. Eric van Zuthem, the Area Manager for Tanzania.
The airport construction project is expected to increase the number of passengers to one million per year, hence the reason for expansion. Currently, it handles a maximum of 12 scheduled airlines.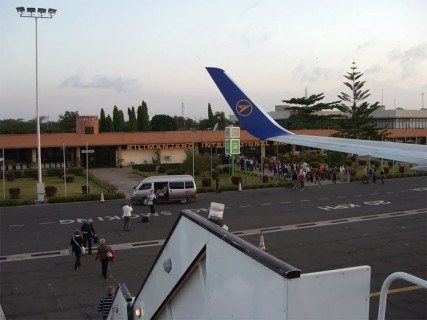 BAM International based in the Netherlands, is a subsidiary of Royal BAM Group and is one of Europe's largest contracting companies, active in construction, property, and civil engineering. The country announced last year it was setting aside US$17m for the construction of a ring road in Dar es Salaam.
Reported On 7 Feb 2018
Swissport Tanzania to invest US $1.8m in Kilimanjaro International Airport
Swissport Tanzania plans to invest US $1.8m in-ground equipment at the Kilimanjaro International Airport (KIA) to improve export handling facilities.
"Aviation technology is changing rapidly and to be competitive we have to keep abreast of the trends by investing heavily. Swissport has invested US $17.8m in cargo handling infrastructure, ground support equipment, and information technology over the last five years," said Swissport Chief Executive Officer Mrisho Yassin.
According to Yassin, Swissport also constructed a US $11.8m warehouse and expanded an export cold room facility at US $446,225 at the Julius Nyerere International Airport (JNIA). The warehouse has an annual throughput capacity of 80,000 tonnes. The company handles 32 airlines. That is equivalent to 99% of the cargo and ground handling industry market share. According to Mr. Yassin, the investment has improved Swissport's service delivery.
Moving On
Moreover, the company last year missed its revenue target by only 10% despite a tough business environment. Still, the huge investment has improved the quality of ground-handling services. "Our investments aim at strengthening our operations to continue offering quality services at JNIA, KIA, Songwe, and Mtwara airports," noted Mr. Yassin.
"We also aim at making sure that our operating environment is safe and compliant with the industry quality health and safety requirements," he added. To sustain its performance, Swissport will continue investing in line with its five-year business plan.
The 32-year-old company employs 1,000 people and handles about 17,000 flights, 1,183,000 embarking passengers, and 20,000 tonnes of cargo annually. The company is certified by International Air Transport Association's Safety Audit for Ground Operations and Environmental Management (ISO 14001:2015).
Nevertheless, 51% of the company shares are owned by Swissport International Ltd and the rest by over 10,000 institutional and individual investors through the Dar es Salaam Stock Exchange. Swissport International Ltd is a leading global airport and aviation services provider in terms of quality, reliability, safety, innovation, and network coverage. It provides ground services for more than 230 million passengers and handles 4.3 million tonnes of cargo a year.
With more than 62,000 employees, it is active at more than 280 stations in 48 countries across five continents and generates a consolidated operating revenue of US $3.4bn annually.