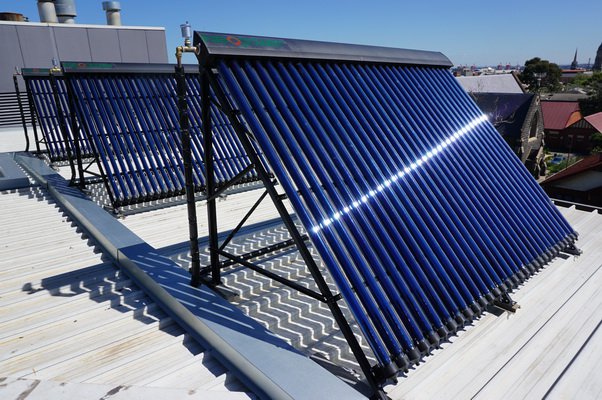 High electricity bills and unreliable power supply have continued to be a challenge for African households. With solar energy as the new energy frontier, more developers are now opting to use the energy in homes as it has proven efficient, cheap and reliable.
Globally, Africa is still lagging in electricity access; however, African countries are now seeking to boost their electricity output by tapping into solar power. According to Chloride Exide, solar water heaters have the ability to reduce electricity bills at home by 65%.This is mostly by saving the energy that would have otherwise been used to heat water through electricity.
For homeowners and developers, however, choosing the right solar equipment is a challenge. More often than not, solar water heaters do not last, not because they are not genuine but because the wrong systems are used for the wrong purposes.
Therefore, before purchasing a solar water heater, it is important first to consider the following
1.The Water Source
The second factor to consider is the source of water. Being able to determine if the water source is soft or hard is essential while choosing the best solar water heater to be installed.  This is because soft and hard water have different mineral capacities and therefore each uses a different heating system, that is; the direct system and the indirect system.
Clinton Njeru, a technician at Suntransfer Kenya says the direct system of heating is mostly used for soft water sources where the water is heated directly by the solar heater collector. However, he says the indirect system, where water is heated indirectly, is recommended for hard water sources because of the mineral capacity in the water.
"The indirect system uses a fluid which is heated by the solar panel which then heats the water used in the household through heater exchange. The reason for this is because heating the hard water directly may result to blockages and corrosion of collector tubes hence affecting the functioning of the solar heater system," he says.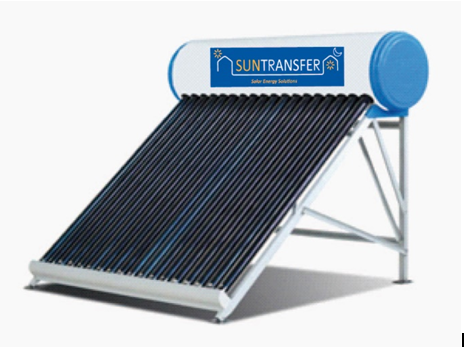 2.Type and Functionality
According to Salome Mulondo a Sales Engineer at Davis & Shirtliff Uganda Uganda there are two types of solar collectors- Flat Plate Collectors (FPC) and the Evacuated Tube Collector (ETC). The FPC are made out of metals (majorly copper & or aluminum) and are more suited for tropical climates given their high conductivity and emissivity – this makes them poor heat retainers under low ambient temperatures.
Generally the FPC are quite bulky and hence expensive compared to the ETC. However, the FPC have an added advantage of robustness, durability and easy serviceability. The ETC tend to have a higher heat retention capacity thus suitable for both tropical and temperate regions. However, since they are made out of glass they are quite delicate and should be handled with extreme care during installation, servicing and operation.
Mulondo says both the FPC and ETC can be used in either the open or closed loop systems. An open loop system is suitable for clean and soft water where chances of clogging and scaling of tubes circulating the hot water are minimal. Whereas the closed loop system is suitable for cases where one is not sure of the type (whether hard or soft) and cleanliness of the water in the circulation system. A closed loop system uses different heating medium from the water in circulation i.e. the heating medium (e.g. glycol, pure distilled water, etc.) does not mix with the water being heated whereas an open loop system uses the same circulation water as the heating medium.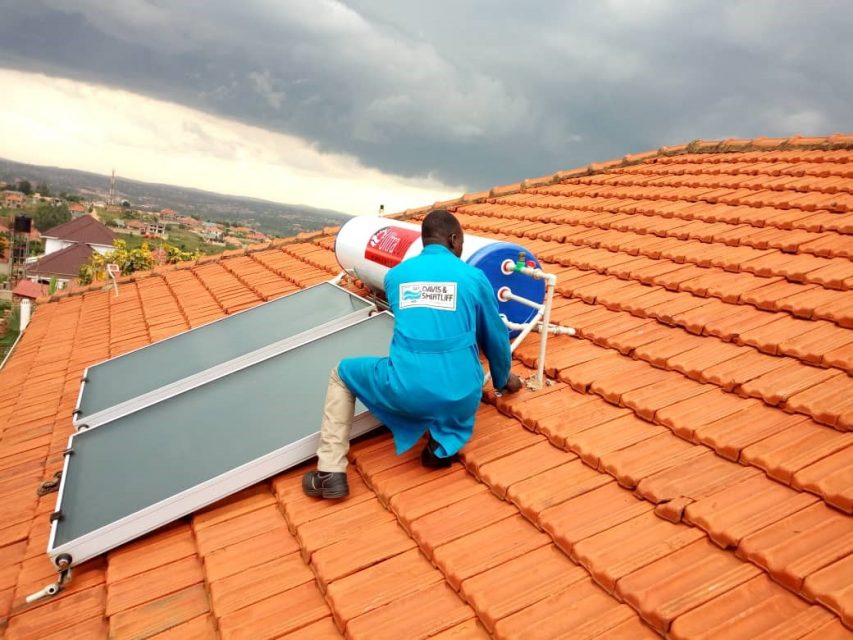 "solar water heaters can either be hybrid or non-hybrid. Hybrid systems come with an already installed electric heating element in the storage tank to provide heating during down times of the solar energy. The non-hybrid systems do not incorporate a heating element," adds Salome.
Although in most cases by the time some considers buying a solar water heater is looking at minimizing the utility bills hence no need to connect the electric booster to utility power.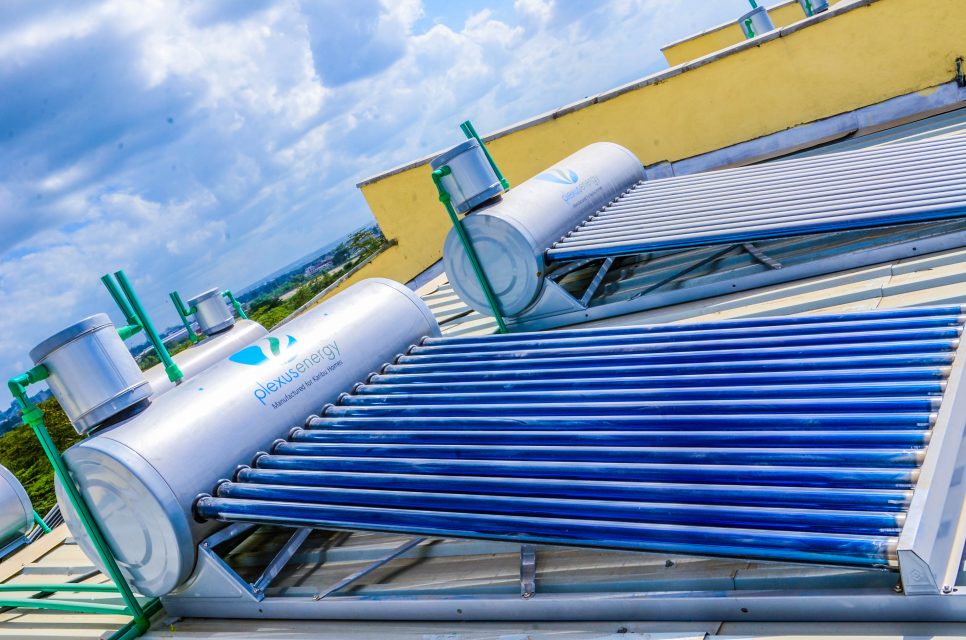 Another factor to consider is the amount of hot water used in the home. On average, one person uses about 30 liters a day, therefore, in a household of three the water requirements is about 100 liters every day.
In Kenya, the Energy Regulatory Commission put in place directives that require  households using more than 100 liters a day have a solar water heater installed. The current market sizes range from 150 liters to about 300 liters for domestic use.
In smaller homes 150 litres to 200 litres can suffice, however, in larger homes a 300 liter may be required in order to actually make an impact in reduction of power costs. Industrial capacities such as hospitals and schools use larger systems ranging from 500 liters to 5,000 liters.
For small families where the demand is not that much, Robert Mulindwa, Project Manager at Power Trust Uganda Limited recommends a passive system and for a large family where a lot of water is used during day and night, he recommend an active system with a large collector. "During the rainy season we tend to have less of the effective sun hours, so the type of solar water heaters offered in the market should be hybrid type with a provision for electricity to boost the performance of the system. These heaters are slightly costly but they are preferred by the people managing places like hotels and schools."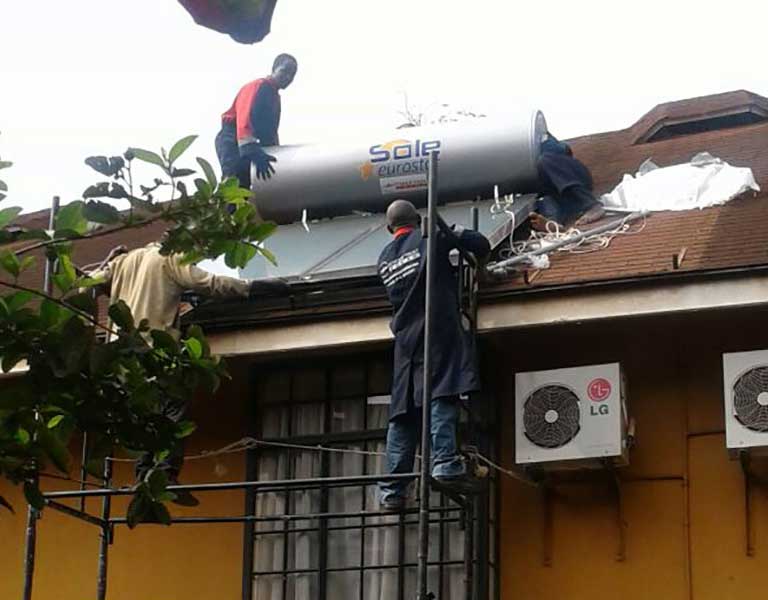 Edward from Plexus Energy says it is however important to have alternatives in situations where water is used throughout the day and night.
"It is important to note that water is only heated during sunny days so if there is extended use especially at night, there may be a requirement for an alternative heating method to supplement the solar system," he says.
 3.The plumbing work
Another factor to consider is the plumbing work. Lavanya Krishna Moorthi from Ellen Power Systems says most people, including technicians, go wrong in the plumbing work as most are not aware how the two-way piping works. The two-way piping is a mechanism where hot and cold water are connected to the house using two pipes, one for hot water and another for cold.
"Solar water is most ideal for bathroom and bathing purposes. Thus, the two-way piping system is used in bathrooms only. However, most plumbers don't know this," she says.
She further explains that kitchen requirements need more water as compared to bathing and other bathroom requirements. Thus, using solar heated water in the kitchen results to wastage of heat water as well as increases the number of times water is pumped to the tanks for heating.
Using the tube type of solar water heater is most preferred as it heats the water much faster and is less expensive in comparison to the flat type
4.Type of tank used
In addition to its capacity, tanks used to store solar heated water should be able to withstand the heat and most importantly retain the heat. Lavanya Krishna says good tanks should be thick and be able to retain heat for about 60-72 hours. "The tank should also have a food safety measure to ensure the water stored does not have a foul smell," she says.
Benson from Energood East Africa Limited says tanks should be coated with enamel to prevent corrosion that is caused by hard water. "You should also look at the components of the panel, the tank and also the heating capacity. The tank itself should be made of cast iron 5mm, which is known for its heating abilities," he says.
5.The service life
It is important to know the service life of a solar water heater before embarking on purchasing one. Francis Romano from Knight and Apps says their key selling point is the assurance of the service life of their products. "Most of our clients are large organizations who want value for their money and providing solar water heaters that last long does exactly that," he says.
Romano says they deal with products that have a specific service life. Their solar water panels have a service life of 15 years and a five-year warranty as well. "You have to match both quality and price," he says.
He also says clients and homeowners should always check the warranty before purchasing a solar water heater. "You also need to know which system works for you; either the flat plate collectors or the vacuum tubes. The type of water should also be considered as different types of water, either hard or soft, require different technologies," he adds.
6.The water pressure system
Before purchasing and installing a solar water heater in a home, Romano says it is important to consider the pressure system in the house. He says most clients go wrong in selecting the wrong system for their house that cannot withstand the pressure coming from the water source.
"There are two types of systems: the pressurized and the non-pressurized system. There needs to be a pressure equilibrium between the supply line and the solar water heating system. If you select the wrong application for the wrong system then it will obviously fail," he says.
In addition to the pressure system, it is also important to know if the solar water system is on a pitched roof or on a flat environment as each requires a different kind of system to bring in good results.
According to Keval Shah from UltraTec Uganda limited who are the representatives of Solahart, one should consider a solar water heating system that can withstand more water pressure. He draws attention to their solar water heaters that can withstand 8 -10Kpa, with a faster heat recovery due to the multi-flow technology and full jacket heat exchange technology. Uniquely adding that it's possible to service the system in a matter of hours as opposed to several days.
7.Reputable companies
Finding reputable companies to buy a solar water heater is the first step in getting genuine products. Director at Solense Limited in Kenya, Mr. Adil Mohamed says this is because these companies carry recognizable brands that have been tried and tested.
"Solar hot water systems are an investment. Looking for reputable companies that carry brands recognized to last at least five years will ensure a return on your investment by way of saving heavy costs of paying for Grid Power," he says.
With so many brands in the market, Mr. Adil says Solense Limited have adopted a company policy to source and stock brands that are manufactured by companies that spend time and finances in terms of RND (Research & development). This makes sure that the products will stand the test of exposure/ water conditions.
It is essential to be able to distinguish between reputable solar water heater companies from less reputable companies. Contracts Engineer at Balton Uganda, Mr. Edward Odoki who deal in Chromagen Israel solar water heaters recommends that one should opt for
Highest quality standards- such as American SRCC, South African sabs, European Key Mark, Australian Sai Global, ISO and more
Global distribution network- Companies that distribute in all continents, including East Africa.
Vast technical experience and engineering abilities- those that take into account different climates: hot and cold, including different roof types
State of the art technologies- recommends those that use laser welding, enamel in vacuum technique, green water-based polyurethane, 8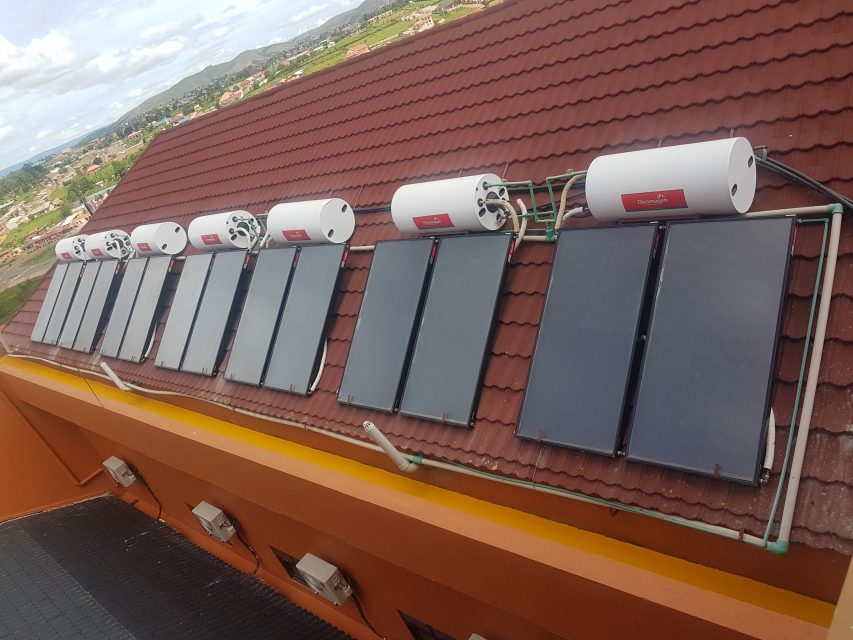 8. Temperature Regulation
According to Eng Tom Isingoma From Aptech Africa Ltd, Solar water heaters should have an inbuilt thermostatic capacity to control temperature to a certain threshold commonly 60- 75 deg-Celsius for domestic applications as this helps avoid scalding effects (pain and damage to the skin from moist heat or vapors. The burn is considered dangerous as it destroys affected tissues and cells causing the body to go in shock from the heat and in severe cases, the injuries can be life-threatening.)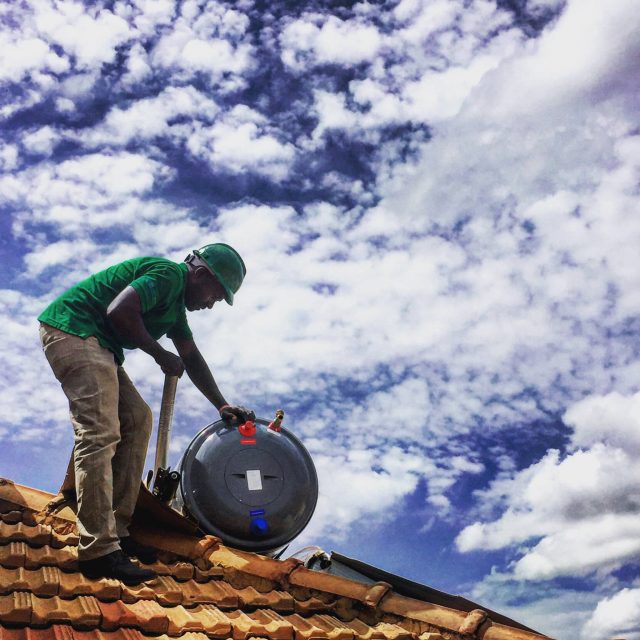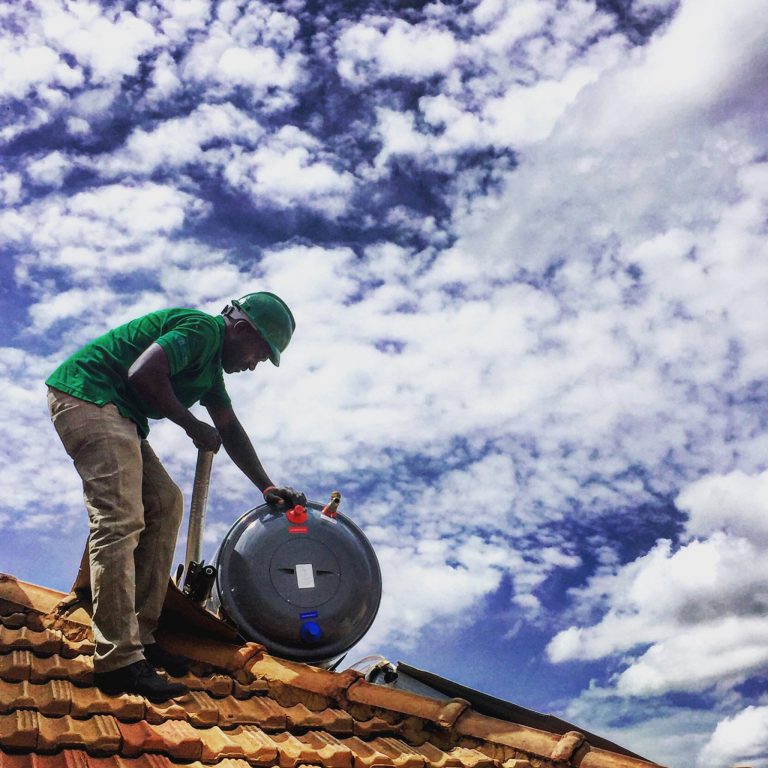 Another factor to consider is the space to place the solar water heaters, which is normally on the roof or on the ground. The structures must also be able to hold the weight of the heaters. Edward says at Plexus Energy they usually recommend a survey, which they offer for free to potential clients, by an experienced engineer that would advice the client on where to place the panel.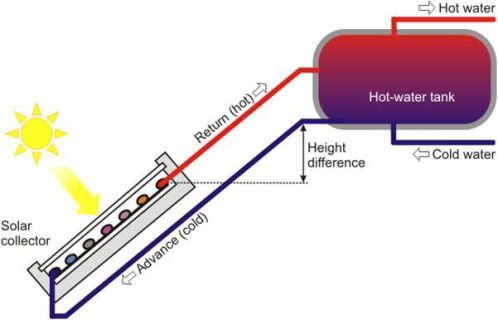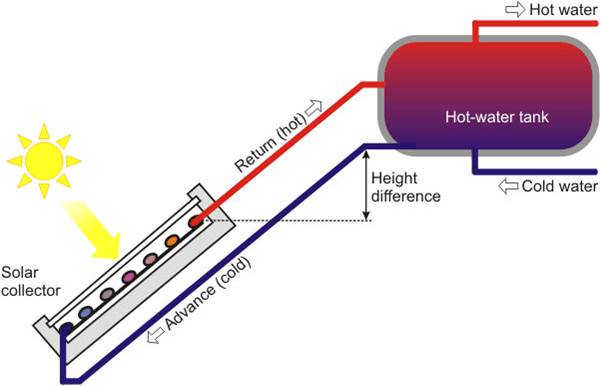 9.Climate and Geographical Location
According to Davis & Shirtliff Uganda, It's prudent to know your climatic/weather conditions before settling for a given solar water heater. The solar heater (Collector) receives the heating energy entirely from the sunlight. Therefore your location should be able to obtain enough sunshine, especially between 10 am and 4 pm on a daily basis. For tropical areas, direct solar water heaters are feasible unlike in temperate regions where hybrid solar water heaters may be the only viable solution given the limited sunshine hours received in a day.
10. Professional installation
Just as it is important to purchase solar water heaters from reputable companies, Mr. Andrew Kiptoo from Climacento Green Tech Limited says it is also important to get professional installation. This ensures that the solar water heater works as it should and also stays longer.
"It is also important for solar companies to offer after sales services including quick and timely responses to clients for troubleshooting," he said.
The basic steps in installing a solar water heater are first mounting the solar collectors on the roof or the ground, then installing the storage tank and the heat exchanger next to the conventional water heater. The next step is then installing the piping and pump for the glycol loop followed by installing the water piping and controls before filling the system.
11. Don't forget about maintenance.
After installing a solar water heating system, Arvinder from Steelstone Kenya says it is important to perform periodic maintenance to ensure efficient operation. In addition to hiring a qualified contractor for annual maintenance inspections, he says you should periodically check for the following:
On the roof or ground, depending on installation, check if the:
Collector is clean and not shaded
Collector is sound, sealing and glazing are not cracked or yellowing
Fasteners connecting collector to roof are sound
Piping and wiring are well-connected, well-insulated, and without damage
Roof penetrations are well-sealed
In the home:
Pressure relief valve is not stuck completely open or closed
Pumps (in active systems) activate when the sun is shining
Pipes are free of mineral build-up.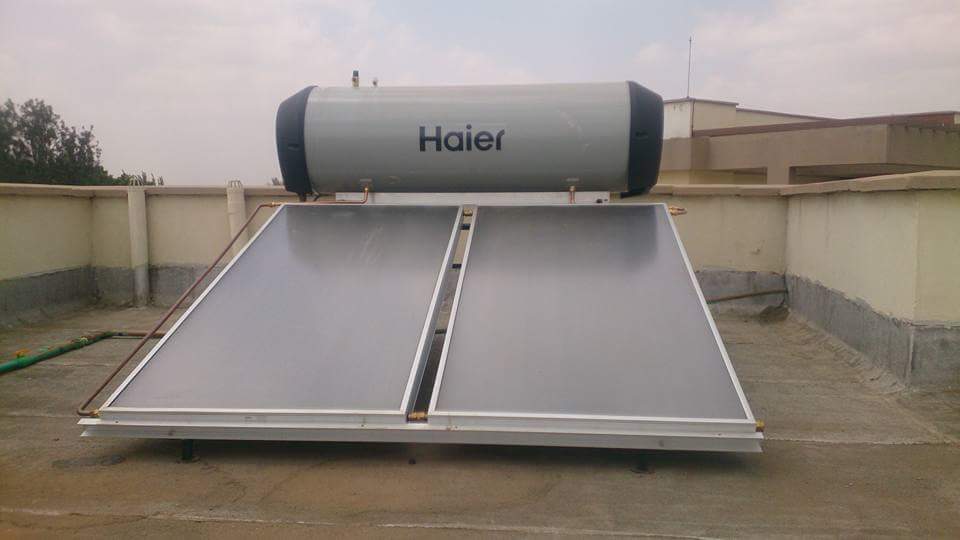 "If you live in an area with hard water, you may need to add de-scaling agents to the water every few years. For example, you can run a vinegar solution through the collector or hot water loop every three to five years. Learn more about how to avoid scaling and corrosion," Mr. Arvinder adds.
Emerging trends, and opportunities
The directive by the Energy Regulatory Commission for household to start installing water heaters has drastically increased the demand of solar water heaters in Kenya. With that, new players have come into the market which has consequently led to more competition.
There has been an overall acceleration in the market, mostly attributed to more awareness by homeowners on the importance of solar water heaters especially in being able to reduce electricity use, which is often expensive.
Edward comments that the ERC regulation has been bundled with a tax benefit in that there is no duty and VAT on solar heaters to promote the uptake.
"This has created jobs for Kenyans, helped in the management of energy peak demand as well has increase the Kenya effort in reducing effects on the environment. With proper uptake and sensitization, I believe Kenya will in the long run benefit from the environmental impact," he said.
Another emerging trend is partnering with global leading companies. Arvinder from Steelstone Kenya says their products have evolved from locally fabricating complete solar water heating systems to partnering with large companies such as Haier. In their 30 years of existence, Arvinder says they have tried and tested their products and they know what works for their client and what doesn't.
"We ensure the quality standards are maintained while carrying out our projects. We have areas with poor water quality i.e. salty and hard water, and because of our diverse product range we are in a position to advise our clients to purchase the right solar water heating system that will work for years," he says.
Challenges
According to  Engineer Eulega of Water and homes Uganda, having more players in the industry has resulted to the infiltration of products that are not genuine into the market. These products, which are more often cheaper than the genuine ones, end up in clients' homes as they (clients) often focus at the price to determine which product works best for them.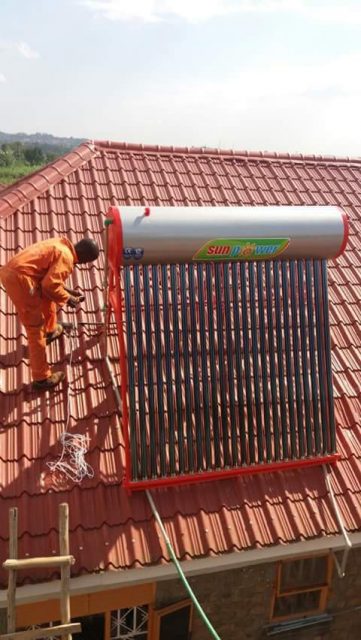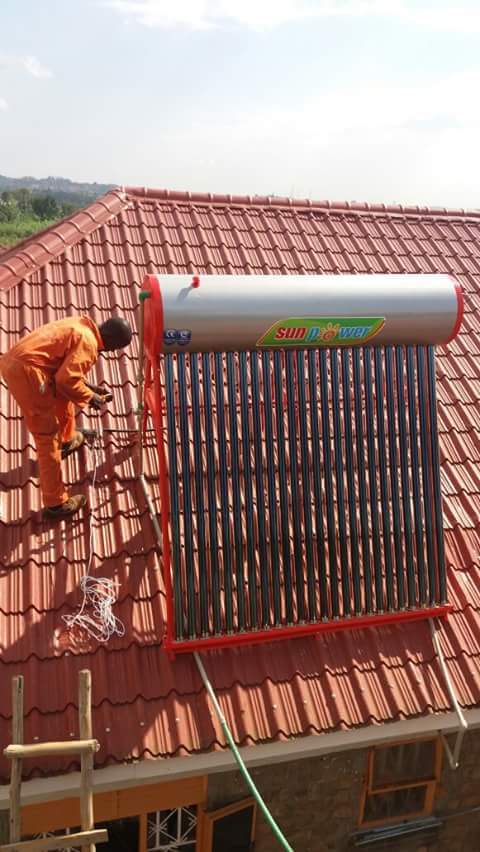 Most clients lack the proper knowledge on the best solar water heaters for their needs and this result to them purchasing low quality products, which are most often cheap. This creates a big challenge to companies that sell genuine products as their competitors might sell products even for half the price.
In light of this challenge, companies are now calling on the government and the ERC to clamp down on GENERIC no name brands that have flooded our market. "Quick failure of these systems in the long run have also made alternative energy solutions to not have a faster uptake by clientele by way of Generic no name systems failing due to their low quality," Mr. Adil from Solense Limited says.
According to Mr.Lubowa Muhammed Managing Director of All in Trade limited, an affiliate member of European Energy Centre rapid and increased reliance on the grid-connected heaters and increased power theft by grid-connected user's poses quite the challenge when it comes to solar water heating. The combination of effects makes solar water heaters seem too expensive to acquire resulting in the market gaining a misleading attitude about solar water heaters as not being cost effective.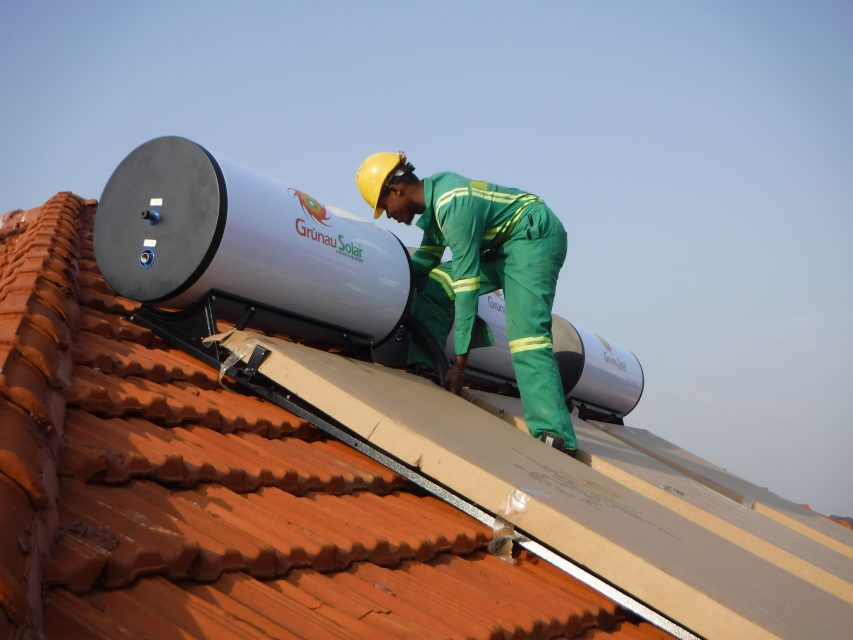 Mr. Kamya Musa Nsubuga of Solar Connect international decries the notion that Solar Water Heaters are only meant for the elite due to the initial cost of purchase and have ultimately concluded that they are intended for commercial establishments such as hotels. Resulting in many people shying away from acquiring solar water heaters.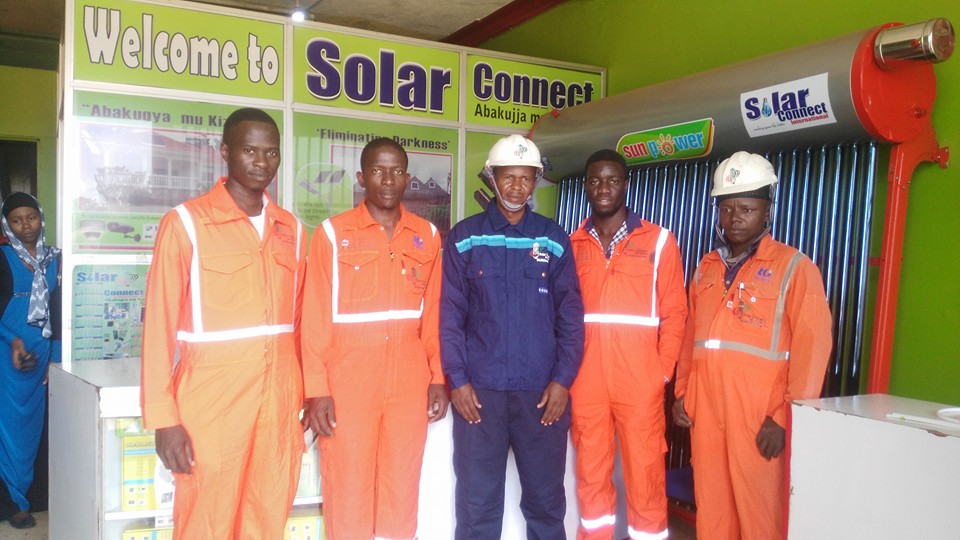 Prossy Nambajjwe from Village Energy Uganda however says the market is slow to embrace solar water heaters as having hot water is viewed as a luxury and for many it is not priority.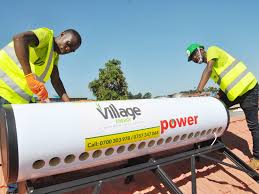 "Government has failed to educate the public on the importance of switching from grid to solar water heating for households. The market is thus rather constricted to a few environmentally conscious consumers. Because the demand is low, the prices are still rather high," said Nambajjwe
The critical shortage of solar water technicians is affecting the quality of work at client's sites and solar companies ability to reach clients that need solar water heating.
In addition to that, cost sharing has now become a new trend in the market. Leah Wambita from Scandinavian Solar Systems Limited says people are now coming in together to buy Solar Water Heaters as a group rather as an individual. "This happens for example in gated estates where they ask for one quotation," she says. This strategy not only saves money, but it also ensures good quality and ease when tracing a faulty product.
The use of new technology is also an emerging trend in the market as companies are investing on more reliable equipment for their clients. Ochieng' from Philips East Africa Solar Water Heaters says their products can be able to withstand both hard and soft water, hence they last longer. Their aim, besides complying with regulations, is to ensure that the client is able to save up costs. Thus, they ensure that they do a proper survey for the client before recommending the type of solar water heater to use.
"We have adapted new technology in our products. In addition to the use of stainless steel, our solar water heaters heat water very fast, is self cleaning and can accommodate hard water," Ochieng' says
Another trend is homes and apartments being designed to accommodate solar water heater installation in regards to space, piping and capacity. Edward from Plexus Energy says this makes installation work easy and cheap.