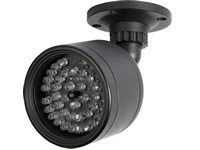 Construction sites are an attractive target for would be thieves. Loss of construction equipment from theft makes construction projects more expensive and remains a major challenge for this industry. In some cases, the difference between profit and loss on construction projects depends on successfully preventing theft losses.
Good planning and programming are essential to construction site security; preventing theft of valuable construction materials and tools.  Equipment theft has several potential sources, but the two main sources are the public and workers (present or former) at job sites or during transportation.
Effective theft prevention requires commitment and should be a top priority for any contractor. Theft prevention policies should be clearly communicated to all workers and all supervisors and workers should be held accountable for their part in a theft prevention program.
Financial incentives can be offered to supervisors and workers for practicing theft prevention, take for instance the reporting of suspicious activity or persons around a work area. The theft prevention policy should also be reinforced with frequent verbal and written reminders around the construction site. The development of a system to verify the identity of people who deliver packages, materials and equipment is yet another measure that contributes toward theft prevention. During non working hours, all equipment should be locked and immobilized.
Anti theft devices such as steering wheel locks; kill switches, tire and wheel and axle locks, locked hood side plates, and locking fuel caps should be attached to equipment. All operating levers, handles and such like equipment should be locked in place or placed under securely locked covers or lids. An alarm system  should be used to lock and protect all major pieces of equipment and trucks containing tools. Padlock shields should be stored on all storage containers to make padlocks more tamper resistant and inaccessible to bolt cutters.
In addition all tools, equipment and attachments should be double stamped with an identification number, making one conspicuous and the other hidden. The company logo or other identifying marks can also be placed on equipment. Perhaps of greatest importance and to encompass all other measures of theft prevention is the use of security guards and surveillance equipment.
Watch dogs may be used in the same vein. The use of adequate perimeter security cannot be over stated. Each equipment storage area should be enclosed with a security fence; good fencing is an essential element in good site security and all construction sites should be securely fenced. Equipment storage buildings and surrounding areas should be well lit and free of hiding places such as shrubbery, trees or other visual obstructions.
Night time lighting is further essential; lighting should be elevated to eliminate dark areas and should be visible from adjacent streets. Once a theft occurs, immediate contact with area police and key personnel within a contractor's organization is necessary and reporting procedures should be made known to all  workers on a site.
Flexiguard
Flexiguard™ of Advanced Perimeter Systems Limited is designed specifically to protect all types of perimeter fencing from attack by cutting and climbing. Th eflexiguard system uses the high specification Flexiguard™ Sensor Cable which is extremely sensitive and accurate in its sensing of fence activity.The Flexiguard™ Sensor Cable is of advanced design having a superior solid state construction. It has no moving parts, a big advantage in extreme weather conditions.
The sensor cable is quick and simple to install using ultra violet resistant cable ties to secure it to the fence. For added mechanical protection it is available in a Roundlock Stainless Steel Flexible Conduit. A highly specified Flexiguard™ Analyser receives the signals generated by the sensor cable and digitally processes them to determine the nature of the attack.
All the detection parameters are adjustable for optimum performance. The High Security Analyser has separate controls for adjusting the detection criteria for cutting and climbing. The Flexiguard™ analyser also has built in test facilities to enable the engineer to quickly and accurately install the system. This is a major benefitas it saves both time and money.
The perimeter to be protected can be divided into zones so that the intruders' location can be identified. Each zone can be from 10m up to 200m long. Zone  lengths will depend on whether CCTV cameras are being used to survey the perimeter in which case the zones will be designed to correspond with the field of view of the camera.
One Flexiguard™ sensor cable will protect a fence up to a height of 3m. Fences higher than 3m will require two runs of cable, one near the bottom of the fence and one near the top.
PIDS Perimeter Fence Security System
Westminister's PIDS perimeter fence security system features a MicroPoint cable which detects any fence disturbance and locates it to within 10 feet (3m). It also features point impact discrimination which is sensitive to fence disturbance caused by a cut or climb and insensitive to distributed fence noise caused by wind, rain and nearby vehicles.
Sensitivity leveling automatically compensates for fence variations equalizing the entire perimeter. With the system's free format zoning, zones are set in software, independent of the processor location and may be changed at will.
Other specifications of the PIDS perimeter fence security system include a windows based INTREPID site manager with site design tools and installation support tools included, INTREPID map monitor software with precise intrusion location displayed in colour graphics and one processor module that protects up to 400 metres of perimeter.
Multiple processor modules can be connected for larger lengths of perimeter. The system's operating voltage range is 10.5 – 60VDC with a temperature range of -40C to 70C.
MeerCams
The MeerCam, from Camvista, is a rapid deployable and cost-effective, portable, wireless visual verification video security system that can be easily deployed on a remote storage site, requiring no cabling, power or telephone or broadband line to operate within the remote location site – greatly reducing conventional CCTV security costs.
Once the MeerCams have been installed – in-house – or by a CCTV installation company – any movement detected in front of the indoor or outdoor MeerCams battery powered GPRS mobile wireless cameras trigger the alarm and the MeerCam system automatically captures a 10 second black and white video recording. It forwards this 10 second video recording clip via the GPRS mobile phone network to an Alarm Receiving Station, as well as having the option to be viewed on a web enabled mobile phone device operated by the key holder on the remote site location – allowing the 'Crime in Action' to be confirmed at the remote location site and getting reaction priority to attend to the break in by the Police or a Security Patrol company.
Camvista is working with resellers in many African countries to sell or rent out the MeerCams to their customers.
Heavy Duty Security Sensors
EarthCam's heavy duty security sensors reduce and or eliminate the need for security guards. They come with remote wireless activation and time and date stamped
recording. These sensors alert project managers automatically in the event of intrusion.
Features include an all weather tamper proof enclosure, a stereo doppler microwave detector, a dual element infrared detector, digital sensitivity control, balanced
temperature compensation and bird or animal immunity.
List of Contributors:
Public Entity Risk Institute (PERI)
Construction Equipment Security by Larry Barnet P.E
Website: www.riskinstitute.org/peri
Advanced Perimeter Systems Limited
Elaine Rogerson
Administration Manager
Email: [email protected]
Website: www.aps-perimeter-security.com
Westminster International
Christopher Dowling
Business Development Manager
Email: [email protected]
Website: www.wi-ltd.com
Camvista Global Ltd
Alex Kilgour
Managing Director
Email: [email protected]
Website: www.camvista.com / www.camvista.net
EarthCam – Webcam Technology Experts
Lauren Sampson
Marketing Assistant
Email: [email protected]
Website: www.earthcam.net