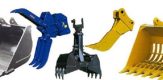 Construction equipment are on high demand this days owing to booming construction activities around the world. There is a huge demand of Excavators in Africa according to deloitte.
You often have to buy Excavators attachments to get specific jobs done, which is why renting an excavator and its attachments is a cost-effective measure for most construction companies.
Search for construction leads
If you are going to buy attachments, focus on blades, breakers, buckets, grapples and augers. Those five will help you get any job done right. But which brands should you trust? Here are some of the top manufactures who were recently awarded by KHL.
Caterpillar (U.S.)
Caterpillar is one of biggest name when it comes to construction equipment and it manufactures excavator attachment designed for tough job sites.
Depending on the number of units that any client's needs they have been able to deliver and their attachment are designed to ensure that they bring about efficiency.
Bobcat (USA)
For more than 50 years, Bobcat Company has built compact equipment that has helped to deliver various construction projects.
The company has efficiently delivered long lasting excavators and according to Delote's report their products can be relied on when it comes to performance, toughness, comfort and versatility .
Komatsu
Komatsu is the world's second largest manufacturer of construction equipment after Caterpillar.Theirs are designed to increase productivity and cut down on man hours (and cost).
JCB (UK)
The UK based company was also featured in the top list of the and in more than 50 years they have been highly involved in the in construction/demolition equipment manufacturing.
They have unique 360 degree excavators which in the recent times are widely used in the construction industry.
John Deere (USA)
John Deere is also a pioneer manufacturer of heavy construction equipment and they are based in US.
John Deere has expertise in cutting edge attachments and filters, which are subjected to very high quality checkups. They have a great bucket tooth product and are a good place to go for batteries for excavators.