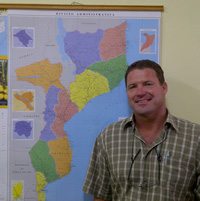 Bell Equipment has recently appointed three new Managing Directors for its operations in the Democratic Republic of Congo, Zambia and Mozambique in line with the company's drive to expand and support its business on the African continent.
Josh Foster, the new MD of Bell DRC joined the company in 2002 and has extensive sales and support experience having worked as a sales representative in the Cape region before taking up an opportunity as Sales Support Manager for Bell Equipment UK in 2007.  This was an understudy position to the Sales and Marketing Manager, a position to which he was promoted in 2009.
Josh returned to Africa in 2010 to join Bell Equipment International Operations (BEIO) based in the DRC. Of his new position he comments: "The Democratic Republic of Congo is a massive country that is full of opportunity. After years of strife the economy is starting to emerge and there is immense opportunity for those that are brave enough to go and find it.
"Bell is a young business in the DRC that has grown quite rapidly. We serve the mining and construction sectors in an area of the world where the logistical supply chain is very challenging and the external business environment quite taxing. Our focus is to supply, service and support our products at a level that customers only expect in the in the First World. To achieve this we have to have a strong team of people and so we are stepping up the level of local training to begin to grow the 'Human Timber' for the future Bell DRC.
"Our main activities are in the copper industry in Katanga Province and we have our head office in Lubumbashi, in the south of the country. We will also be opening a new depot in Kolwezi to support our growing customer base there in mining and infrastructure. We have a strong infrastructure business and are a large supplier to the Province of Katanaga Government for all their road building teams and currently have ten field service teams that look after them exclusively. We also looking at developing our gold business further and have two contracts in the north east of the country."
John Ferguson is MD of Bell Mozambique, having joined the company in July 2011 after been a loyal forestry customer for over 20 years. "As MD of Bell Mozambique I will be focusing on getting the Bell brand 'out there' and ensuring that what we promise to deliver is understated compared to the customer's actual experience of Bell.
To this end my major focus will be to attract and retain quality staff to ensure that the awesome machines we sell are backed up by a competent and capable support team. I would like our brand to become known in Mozambique as the one to be trusted and relied upon as the total solution for yellow metal needs in all aspects of the development of this country."
He added: "Business opportunities are promising for our region as Mozambique is experiencing rapid and massive development in its mining industry, particularly open-cast coal with the associated infrastructure requirements such as new railway and road links, port expansion and development and government civil responsibilities.
"Large scale agricultural expansion projects are also in the pipeline along with the development of the Lichinga Forestry node. Urban upgrading has recently been kick-started in various cities whilst infrastructure development for increased trade from landlocked neighbours and local mining development has been given the green light. To meet the projected business growth in the region, Bell Equipment will be expanding its Customer Services Centres in Mozambique with new branches opening in Tete early in 2012 and in Nacala later in the year."
Meanwhile Bruce Paterson is the new MD of Bell Equipment Zambia having joined the company in 2006 as a trainee sales person. He has been based in Zambia since August 2008 and became Sales Manager of the region in December 2010 before taking up the position of MD in 2011.
Bruce is upbeat about prospects in the region: "We, as Bell Equipment, have an extremely positive outlook on Zambia as a region and forecast positive growth for 2012. In line with this forecast we are looking to increase the number of employees and will also be investing in new facilities to show our commitment to the region.
"We have outgrown our existing premises and are therefore planning to build a new state-of- the-art head office in Kitwe on the Chingola Road to improve our visibility as well as access for our customers and employees alike. A satellite branch in Solwezi on the Chingola Road is set to be operational in early January 2012 to better service our customers in the North Western Province of Zambia. We will also be taking occupancy in a brand new development in Lusaka in March 2012."
According to Bruce, Bell Equipment Zambia is driven to improve controls and internal processes to better serve customers.  He said: "The Bell Zambia team has traditionally been set up and driven around strong and reliable after-sales support, which is certainly an aspect of our business that I would like to continue to work on. I believe that the repeat sales we have enjoyed in Zambia, is due to our after-sales support and I see this as the future of our business in the region."