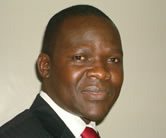 Collins Kowour is in the land economics profession by training. He chose this career line when he completed his high school studies. He was inspired by the late Kassim Owango, a former chairman of the Kenya Chambers of Commerce and the director of Milligan Company, who was a land economist as well.
Kowour made it big in his academic achievements and even emerged as one of the top Kenya Certificate of Secondary School examination candidates back in 1994. He has been in the practice for the past 11 years. He has a BA in Land Economics and as well as a Masters degree in valuation and property management.
With time, he has found his career line very intriguing. The challenges that come with his work gives him a sense of achievement as he give back to the society, helping them to solve their land problems. His main areas are valuation and estate management.
According to him, land economics is a part of the valuation surveyors, estate, land and building management surveyors. These are the essentials that make up the Institute of Surveyors of Kenya (ISK). "ISK is composed of this and land surveyors," he says.
Challenges
"My work, by nature, consists of dealing with different people and different circumstances, which very is challenging. This range from valuation projects to buildings under construction for rental and selling of real estate. In daily practice, the challenge is in explaining to the consumers what they need to consider when purchasing property (land)," explains Kowour.
Other issues that he has to face are deadlines. Clients want their buildings to be completed on time, especially if they want to let out or sell. He recalls about one project that gave him quite a challenge.
He had to convince the Kenyan legislators and the public that the new constitution contained some land policies that were for the good of the citizens and the country, against the backdrop of misinformation by some politicians.
Modern land surveying in Kenya
As a chairman of the ISK he has observed a positive development in land surveying trends today. "Land surveying in the country is embracing technology which makes the work more efficient and accurate. The speed at which results are delivered has increased and client demands and requirements have also increased," explains Kowour.
He says that there is growth in the sector and profession particularly in terms of emerging areas, and contemporary requirement of consumers of our services. For instance, the world and public is appreciating geographic information systems (gis) more, land information systems is being appreciated and implemented by Ministry of Lands.
To make it even better, we can make use of appropriate technology, elimination of corruption and implementation of land related reforms as provided in the constitution of Kenya, 2010 and the national land policy will go a long way in improving service delivery in the land sector, as he advises. The upcoming land surveyors should be ready to learn the new technology.
"The world is being flattened by technology and it is becoming more complex even in terms of individual competition across the world. They should thus embrace technology and create niches for various aspects of survey away from the traditional practice."
To enable the young practitioners gain a good grip of the industry, Kowour says that it is advisable that one join the professional associations and become an active member so that you can achieve your career ambitions as you interact with other professionals in your area of practice.
ISK
ISK is generally a professional organization for professionals in the land sector. "My role as its chairman is to ensure that the public is protected from poor quality services, get the value for their money, enhance members' growth in their professions and ensure that their interests are also taken care of." He ensures that ISK's vision as an internationally recognized professional institution on land matters, is achieved. He has been working hard on this.
"We have participated in a number of international forums, we are creating a real estate training center for the region, we guide the public on national matters related to land, and we have increased areas of partnership with strategic organizations. We have also increased representations in various relevant bodies and task groups."
ISK also simplifies the many categories of surveying disciplines to the public and consumers of their services. It enhances communication through e-bulletins and magazines and journals. As a profession in this area, it is a good idea to be a member of ISK. It provides you with a forum through which you can access emerging opportunities. It provides fora for exchanging ideas on best practices in the sector.
The institution is recognized by the government and other main players in the sector. As a practitioner you have to be a member of ISK so that you can benefit from the creating ISK partnerships which will give concessionary rates of their products and services to its members.
All professional bodies provide collective voice, and this is one of the basic things that ISK offers its members. Kowour likes reading and travelling. He also gives motivational speeches and likes dancing as well. He is married and a father of two daughters and one son.