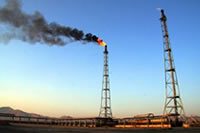 The Council of Ministers passed the Construction Project of 152 water supply systems under the Water for All Programme, aimed at increasing the supply of drinking water to people.
The decision was taken during the fifth ordinary session of the Cabinet Council held at the Presidential Palace under the guidance of President Jose Eduardo dos Santos.
According to the press release issued at the meeting, the project in question is intended to serve 640,000 people spread across the provinces of Lunda Norte, Uige, Kwanza Sul, Moxico and Zaire provinces.
On energy sector, the Council of Ministers approved a draft Development Plan of Action for Energy Security Strategy of the country, a working instrument that defines the main strategic guidelines for the sector, particularly for electrical sub-sector and oil and natural gas sub-sectors.
The implementation of this agreement will enable the progressive deactivation of the existing systems of generators, transferring its power to the Power Station of Fútila recently built.