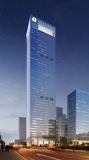 US-based architectural firm Goettsch Partners (GP) has designed a new 110,000m² Poly Business Tower in Shunde, China.
The new 200m tower will offer office space and is part of contracts the company has signed with Chinese developer Poly Real Estate.
Other projects GP is carrying out for Poly Real Estate includes an office project, a hotel and mixed-use developments in the cities of Chengdu, Deyang and Guangzhou.
The Poly Business Tower in Shunde will be the centrepiece of the business district and will be located near various cultural and government facilities in the Chinese city.
GP said that its concept was to create a tower that will integrate features oflocal culture in the architecture of the building.
The tower's planning and facade articulation are designed to showcase the traditional vernacular inspired by the pinwheel patterns commonly found in the regional screens and paving, GP said.
Poly Business Tower's height will be extended by pinwheel-patterned perforated screens to provide shading and air ventilation for all office floors.
The tower will feature automated energy controls, glazing and vertical shading devices and screens will create an energy-efficient skin to offer floor-to-ceiling glass for all office users.
Plans also include a multi-storey winter garden on the top of the structure to offer views of the surroundings in all directions and at the base there will be a ceremonial garden.
GP also designed a four-sided lobby to engage the landscape and blur the distinction between interior and exterior space while segregating vehicular and pedestrian circulation around the perimeter of the building.
GP design principal Paul De Santis said, "Integrating vernacular design elements with modern technology will create an elegant and sophisticated addition to the Shunde skyline."
Poly Business Tower is expected to be completed in 2014.