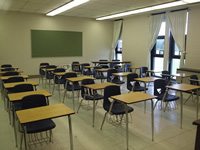 South Africa Lonrho's has won contracts totaling R123m (£10.2m) for the supply and construction of 116 new education centers
The contract calls for the delivery of 398 rooms centers , eight laboratories and ancillary work to the Eastern Cape Province's Department of Public Works over the next four months.
Kwikbuild will manufacture the classrooms in its facility in Cape Town. The buildings have a design life of 30 plus years and come fully insulated to keep the classrooms cooler in hot weather and warmer in cold weather.
"There is a chronic shortage of adequate classroom facilities throughout Southern Africa and Lonrho is pleased that it can offer a solution to Governments to help address the current demand for this type of infrastructure," said David Lenigas, Lonrho's executive chairman.
"Kwikbuild is seeing increasing demand for its products not only in South Africa but across the continent. Quality prefabricated buildings are a quick and cost-effective way to meet the demand for schools, clinics, offices and accommodation. The benefit of the prefabricated building is that it can be up and working in days rather than months."