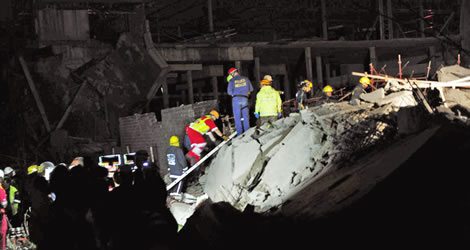 A roof of a three-storey shopping mall under construction in South Africa has collapsed killing two people and injuring several others. Rescue teams used cranes, sniffer dogs and spotlights as the search for survivors stretched into the night.
According to some eyewitnesses the collapse happened when construction workers started removing the scaffolding. The incident took place in Tongaat, near the eastern coastal city of Durban. According to Police spokeswoman Lt. Mandy Govender at least 26 people have been rescued but as many as 50 are feared trapped in the debris and sniff dogs are now combing the area for survivors.
The deputy mayor of the municipality, Nomvuzo Shabalala, said construction should not have been taking place since contractors were not doing a proper job adding that they had taken the contractors to court a month ago and they thought they had stopped.
A spokesman for a private emergency medical service, Chris Botha, described the scene as horrific with big concrete blocks having fallen on people. Rescue workers are using hydraulic rescue equipment to break through the concrete and get to some of the injured. Paramedic Neil Powell said most of the injuries were broken bones, multi-fractures and crush injuries.
The construction site is about 200 metres long and the cause of the roof collapse was not immediately clear. Tongaat, a town of 43,000 lies around 40 kilometers north of Durban, South Africa's main Indian Ocean city. The surrounding province of KwaZulu-Natal is the home of President Jacob Zuma. The region has enjoyed a construction boom in the last few years, based in part on huge government investment in infrastructure projects.
The incident could sour labor relations in the construction sector which has an otherwise decent safety record due to the strength of South Africa's unions. Meanwhile, the Congress of South Africa Trade Unions in KwaZulu-Natal has called for the arrest of the developers of the mall adding that eThekwini municipality was granted the court interdict on the development and therefore compliance was not followed.
This year alone there have been frequent reports of collapsed buildings and bridges in Africa caused by under designing in addition to bad workmanship and use of substandard building materials. This has led to loss of life and limb not to mention the monetary losses incurred.
In January, 5 people died and scores of others were injured in Kisumu, Kenya's third largest town. At the end of March, a building under construction collapsed in Tanzania's largest city, Dar es Salaam, claiming more than 35 lives. The developers violated a permit to build an apartment building with 10 floors and at the time of collapse, it had 16 completed floors, with 3 more planned for a total of 19 floors.
In May 4 people were killed when a building under construction in Nyagatare, some 100 km northeast of the Rwandan capital Kigali collapsed. In July, 8 people died after a two-storey commercial building collapsed in Uganda's capital Kampala. In November 5, at least 4 people died when a four-storey building they were building collapsed in Nigeria's most populous city Lagos. The West African nation is notorious for building collapses and dozens of people have lost their lives in 2013 alone. These are just but a few of the many such incidents reported in the recent past.
Developers are to blame for this state of affairs with greed motivating them to bypass industry regulations, leading to hiring of non professionals to oversee projects and as long as they are left unchecked, the tragedies are likely to keep occurring as construction activities augment.
Governments as well should take enforcement of building codes and regulations seriously so as to ensure only trained professionals and contractors are permitted to engage in construction  works.