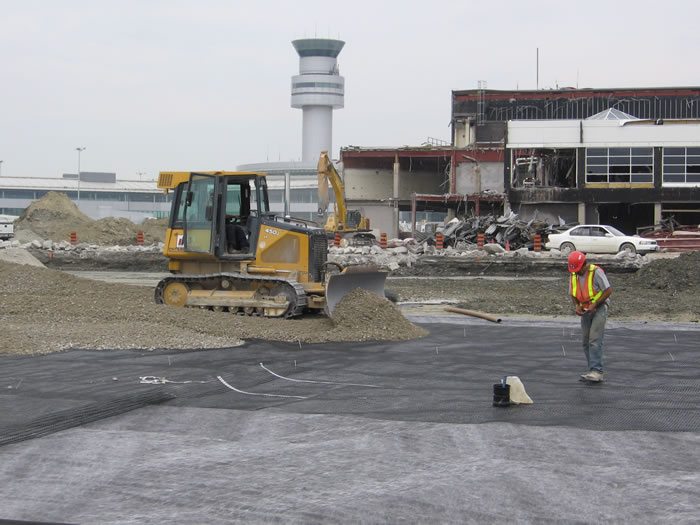 Granite Environmental, Inc. is a solution based provider that specializes in erosion and pollution prevention products such as construction site erosion control supplies, temporary storage tanks, silt containment curtains, filtration products and secondary containment. Their goal is to provide customers with economical products that can control pollution, contain hazardous materials, and help prevent erosion.
Serving a global marketplace, Granite Environmental, Inc. works on projects with customers around the world including in Africa, Europe and South America. According to their marketing manager, Elliott Davis, some of their most recent supplies to Africa have included medical waste incinerators, flexible storage tanks and containment booms.
When it comes to projects, their company works to provide the best solution, rather than just a product. According to Elliott, the key to a successful project is good planning and correct installation of quality products. "One of the things that we have seen is that sometimes the regulations or guidelines used for one project may not be as effective in a different situation based on the terrain or conditions, and subsequently the product that may be recommended on a specification or plan may have been very successful in the original application but will not provide the desired results in different conditions." Their team also encourages buyers to evaluate their site to make sure that the specified product will actually work for the application.
One of the many product lines they specialize in is infrastructure stabilization and erosion control fabrics. Their product variety includes synthetic woven and nonwoven geotextiles, geogrids, stabilization fabrics and natural fiber products.
For road or infrastructure projects, synthetic woven and nonwoven geotextiles are often the best solution. High in strength and UV resistance, these fabrics are able to separate aggregates, filter water and provide cushioning/support for roads and buildings. Geotextiles are commonly used in projects that involve building maintenance, road development, wall support or rail road stabilization.
Choosing the right geotextile for a site includes a review of site conditions, specifications and requirements. Woven Geotextiles are typically higher in strength and are frequently used under roads, railroad tracks, walls, and rip rap. By contrast, Nonwoven Geotextiles are higher in permeability, making them a great option for filtration around piping or drains.
For environmentally sensitive areas, Granite Environmental also offers natural biodegradable logs, wattles, mats and blankets. These products allow customers to control erosion and establish vegetation without harming the surrounding environment.
Granite Environmental Inc
Elliott Davis
edavis@graniteenvironmental.com
www.erosionpollution.com