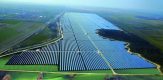 Egypt's private sector power company Hassam Allam Holding is set to construct a solar power plant in the first Q of 2016 costing US$80Million.
According to the company's deputy business development director Ahmed Kafouri the company has already signed the construction deal with the New and Renewable Energy Authority (NREA) to develop the 50M solar plant in Aswan under the Egyptian government feed in tariff programme.
He also added that the agreement will allow the company to finance, build own and alos operate the plant and this is a new move in the energy sector in the country.
The group's construction arm, Hassan Allam Construction, will be responsible for the engineering, procurement and construction (EPC) role of the project, which is expected to end in 2015.
In a statement the company said that NREA had been keen in implementing the power programme to cub the increasing energy shortage facing the industry.
Egypt government us aiming at producing at least 20% of its energy using new and renewable sources by 2020 and they have set key goals that will help them achieve and they are striving towards the same.
Late last year the country's former former minister of electricity Mohamed Shaker said the renewable energy to be generated and used in homes will be called feed- in tariff and will be outsourced from private companies.