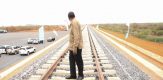 The Standard Gauge Railway in Kenya which is being constructed by China Road and Bridge Corporation is almost complete; this is according to the external manager Julius Ling.
Mr. Ling said that the Standard Gauge railway in Kenmya is 50 per cent complete and the first locomotive to use the railway between Mombasa and Nairobi is expected at the Port of Mombasa in November this year.
Currently, 48 per cent of the bridges have been done and after completion, it will improve the country's infrastructure, provide employment, enhance business and reduce the cost of transporting goods and people.
"The project's implementation has received support from different players, including the county governments. More than 25,000 local engineers are working together to speed up the construction," Ling said.
The mega construction of Standard Gauge railway in Kenya is a project which costs a whopping US$3.8bn is anticipated to be complete in mid 2016 after more than 33 substations are constructed at strategic points on the Mombasa-Nairobi highway, construction of the substations will begin at the end of this month.
China Exim Bank has provided 90% of the financing while the remaining 10% is being contributed by the Kenyan Government.
The Standard Gauge Railway in Kenya is proposed to connect Mombasa to Malaba on the border with Uganda and continue onward to Kampala, Uganda's capital city. It will further run to Kigali in Rwanda with a branch line to Juba in South Sudan. Branch lines along the route will extend to Kisumu, Kasese and Pakwach.