The slogan "less is more" hits the nail right on the head when it comes to design trends. Minimalist straight-cut design, focusing on what is essential, and the art of clear-cut lines often determine the design of living spaces – especially in kitchens – with "handle-less" being the keyword here. Austrian fittings specialist  Blum meets this minimalist design trend by combining both form and function, always striving for perfecting motion.
Living spaces today – from kitchens to bathrooms – are difficult to imagine without handle-less furniture. This is hardly surprising as handle-less furniture gives a distinctly calm and uniform look to the overall front design. Characteristics such as large, very wide fronts, clear-cut design, and refined front spacing are particularly appealing in handle-less kitchens. Moreover, there are no "disturbing" disruptions caused by handles, which adds to the modern, homely touch. All of this gives ample scope for a completely new way of home furnishing. Long-established Austrian company Blum embraces current trends such as "handle-less" furniture and develops suitable fittings solutions that manage to impress both purists and those seeking something special. These solutions help in the implementation of exceptional design ideas inside furniture. Furniture has a functional side, too. This becomes particularly evident with regard to furniture usage, which is all about solutions supporting ergonomic workflows, offering plenty of storage space and easy handling.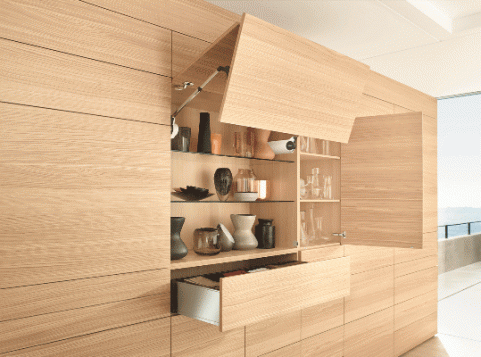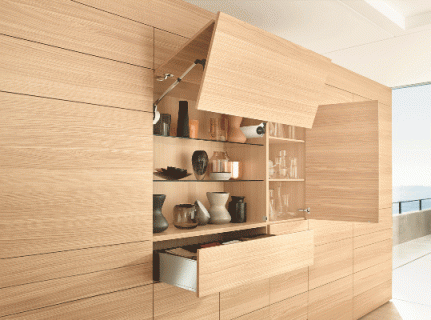 Electric or mechanical?
Blum uses innovative motion technologies that make furniture not only more practical but also offer a variety of new design possibilities, especially for "handles-less" furniture. SERVO-DRIVE – Blum's electric motion support system – is the perfect example that makes opening actions mesmerisingly simple. At a single touch pull-outs open by themselves and close again softly and effortlessly with BLUMOTION. This electric support is also suitable for lift systems in wall cabinets as it opens large and wide fronts with ease as well. Lift systems can be closed conveniently by pressing a switch.
Blum – for all living spaces
Every living space imposes different requirements on the form and function of furniture. Blum's extensive programme offers many different solutions – whether for kitchens, bedrooms, living rooms, bathrooms, hallways or presentation of goods in shops. The desire for elegant design extends to drawers and pull-outs as well. The trend for a greater scope of design plays a vital role "inside" kitchens. To this end, Blum has developed sleek and elegant box systems that fit harmoniously into the furniture. Optionally, the box systems can also be customised to match a living space while compatible inner dividing systems ensure perfect organisation.
Press contact:
Julius Blum GmbH
Lisa Nagel
Phone +43 5578 705-2405
[email protected]
About Julius Blum GmbH
Julius Blum GmbH is a family-owned company that operates worldwide, specialising in the manufacture and distribution of furniture fittings. Its main product groups are lift, hinge and pull-out systems for furniture, predominantly in kitchens. The company has seven plants in Vorarlberg, Austria, production sites in Poland, Brazil and the USA and 27 subsidiaries and representative offices around the world. The company delivers to furniture manufacturers and authorized dealers in more than 120 countries. For more information, please go to www.blum.com