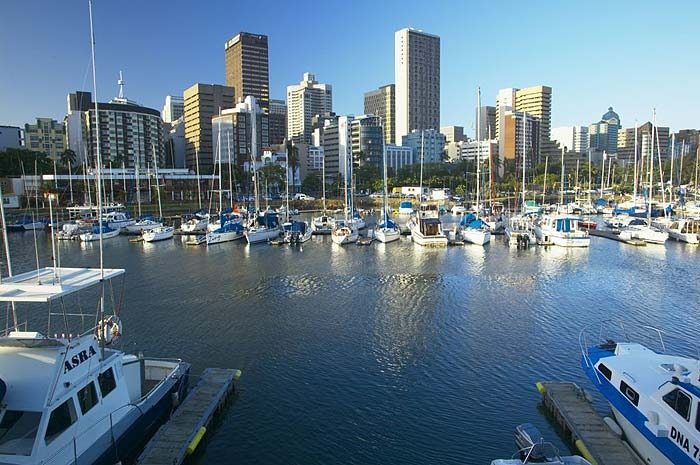 The inaugural Durban Maritime Summit which kicked off recently aims to transform South Africa's Durban city, home to largest and busiest ports, into a smart port city.
The summit aims build a close working relationship between the port and the city in a bid to improve inefficiencies and remove constrictions within the port pipeline.
In a statement during the conference, University of KwaZulu-Natal Maritime Studies unit director, Trevor Jones said development of a smart port could help alleviate the public perception that Durban port was costly for users.
Jones said the notion of transforming the port to an all round service port was important and would be an advantage to the users. He emphasized on the availability and quality of port functions, efficiency of the functions their cohesion and inter-connectedness, and the delivery of these services at a competitive cost.
He noted that while the port was handling fewer vessels, these were bigger both in terms of tonnage and when it came to the length and beam of the ships. This he said, was a challenge, coupled with ports working more cargo per call.
In addition to the transformation, Jones highlighted on the need to develop Durban as a ship repair centre despite this area being of great concern for Durban, as ship repair created massive backward linkages into the port cluster.
He noted that ship repair was a particular focus of Operation Phakisa, which aimed to unlock opportunities within South Africa's blue economy. He added that the emphasis had to be shifted from focusing only on the Port of Durban to include Richards Bay.
"Stakeholders need to look at floating dock opportunities; how these docks would be managed and whether this would fall outside the domain of State-owned Transnet National Ports Authority (TNPA).
As a bunker supply centre, the port of Durban has a good history and t his legacy could continue given Durban's local refinery capacity. Durban is capable to supply slightly more refined fuel grades at a lower price than many competitors who are able to supply lower-grade fuels," Jones said.
Jones however acknowledged that South African marine charges were below global average. Cargo owners on the other hand reported that their costs were above the global average.
"Uniformity still lacks, with cargo dues massively high for containers and automotive products and lower for major bulk cargoes. This is not good news for Durban and bad for trade growth as containers and automotive products are some of Durban's main cargoes," he pointed out.
Jones said that a major shift of the deck chairs to Durban's benefit was imminent despite the port not addressing the high cost of doing business.
This he said could be addressed by moving the port authority away from Transnet and possibly placing it under the National Department of Transport. This would in turn free up revenue to be invested into the port without conflicting with Transnet's bottom line.