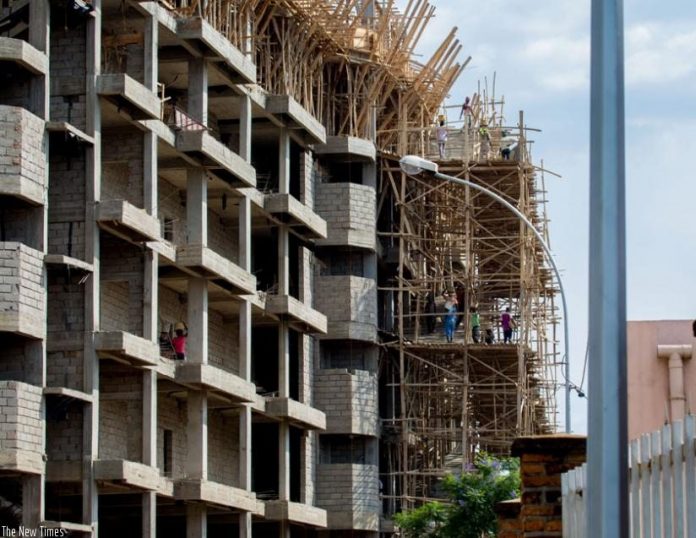 Rwanda housing sector on the spot
Rwanda Housing Sector is still caught up in challenges of non-compliance with stipulated rules and regulations.  Experts in Rwanda housing sector say this  could affect infrastructure development.
The expertswere speakingr during a joint inspection conducted in the six secondary cities of the country and the City of Kigali.
The inspection was conducted by experts from Institute of Engineers of Rwanda (IER), Rwanda Housing Authority (RHA) and Rwanda Standards Board (RSB).
It was conducted in cities of Rubavu, Musanze, Muhanga, Rusiz,Huye and Nyagatare and concluded in Kigali.
The experts, in the company local officials, visited several sites under construction so as to assess compliance with housing regulations.
The six secondary cities will be developed as pillars of growth and centres of non-agricultural economic activities. This will need investment in specific hard and soft infrastructure and strategic economic projects. These will boost growth and development of these cities and enhance linkages to other towns and rural areas. This is according to the second Economic Development and Poverty Reduction Strategy (EDPRS II).
However, experts say some of the regulations are still violated.
Myriad of issues
Among the issues raised include no clear tests of materials used in construction, lack of soil tests and geotechnical report for some sites, lack safety gadgets at some construction sites, and no first aid boxes to help those who may be injured in construction process.
The experts also pointed fingers at some contractors and supervisors at the construction sites who are not registered with the Institute of Engineers of Rwanda which is a legal requirement.
Works on two major structures under construction in Kigali were suspended temporarily over non-compliance to building regulations, while engineers at another construction site were asked to submit certificates and other requirements allowing them to practice in the country.
The suspended buildings are Kayitare Anecto building situated in Kicukiro ,PMUB Albert Supply situated behind Parliament in Gasabo District.
The owners of an apartment that is under construction at Gishushu were given one day to show certification documents to the City of Kigali.
District officials who are in charge of one stop centres were directed to make sure that both contractors and supervisors fully comply with housing regulations.
"Officials at one-stop centres are supposed to supervise constructions, as contractors and supervisors may be looking for self interests and breach the regulations," said Janvier Muhire, the director of housing regulations and standards at Rwanda Housing Authority.
"We are encouraging officials at the district level to regularly supervise and advise on buildings to ensure housing regulations are observed," Muhire added.
He added that the issue of safety equipments is of serious concern as those engaged in construction works are at risk of losing their lives.
Soil test
Other mistakes noted were lack of ramps, lack of soil tests and proof of the durability of particular buildings.
Muhire stressed the need for engineers to comply with construction regulations. He added that engineers' failure to register with relevant associations makes it hard to supervise them.
Director of housing inspection unit at Rwanda Housing Authority  Alice Umugwaneza acknowledged that the housing sector is still under developed.
She appealed for more awareness campaigns on building codes.
Similar Posts: