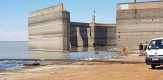 Water problem in South Africa continue to bite despite the country getting rainfall in recent days. According to the Department of Water and Sanitation (DWS), the rainfall levels expected should be ten times more than that received in the previous week in order to salvage the current water crisis.
The deputy director general for emergency projects said that the water restrictions will only be lifted once the dam reaches a 70% level which is considered safe. The water systems are very low and programmes need to be intensified in order to save the situation.
Also read:South Africa's water sector: a case study in state capture
The water shortage crisis can be attributed to the inadequate rainfall pattern that the region has been experiencing. In addition, the severe evaporation and drought rates worsen the whole situation. The country has been unsuccessful in bringing the average dam volume to its desired and sustainable levels hence the restrictions as the water system reached its lowest in November at 26.6% level.
In the past week, the national dam's water levels only rose by 1.9% in a week. Despite the mid-summer rainfalls that saw the Vaal System gain an extra 195M cubic meters of water, the water levels are still low with Gauteng's integrated Vaal River System only reaching 58.5%. The Vaal River System comprises of 14 dams which mainly serves Gauteng, Eskom and Sasol.
This news comes two months later after the Sterkfontein storage dam was prompted to release 200M cubic meters of water to the Vaal system and feeding it for 54 days in order to maintain the water levels above the 25% capacity.
The DWS says the water restrictions will only be lifted once the region experiences adequate rainfall or an analysis showing 'safety band limits'.