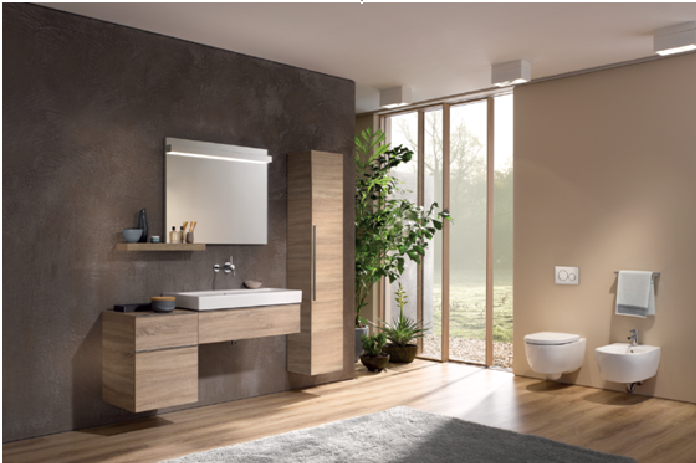 From April 2017, the Geberit catalogue in South Africa will for the first time also include Geberit bathroom series comprising ceramic sanitary appliances and bathroom furniture.
The series that will be sold solely with the Geberit logo in Southern Africa will include Geberit Citterio, Geberit Xeno2, Geberit iCon, Geberit Smyle and Geberit Abalona. With this step, Geberit customers will be able to take advantage of products that combine perfect design and sophisticated functionality in a unique way.
The Geberit name is synonymous with good design, outstanding functionality, first-class quality and a system approach. Professionals have come to appreciate uncompromisingly high standards when it comes to the sanitary products from Geberit, and they can expect the same from the Geberit bathroom series.
The bathroom series, which are manufactured entirely in Europe, are designed for both private bathrooms and public sanitary facilities. In 2017, Geberit will include the Citterio, Xeno2, iCon, Smyle and Abalona bathroom series in its product portfolio.
Thanks to their various styles, designs and prices, the bathroom series – which comprise ceramic sanitary appliances and bathroom furniture – have something to offer for any bathroom. A wide range of washbasins, both with and without cabinets,and cleverly designed furniture with lots of storage space and for every design requirement, make the Geberit bathroom series real eye-catchers.
The Geberit Rimfree toilets without a flush rim are unique and, above all, functional. They are very easy to clean and feature an excellent flushing-out performance. And all with Geberit's long-standing know-how.
"Thanks to the Geberit bathroom series, it is now possible to offer our customers a comprehensive range of products both in front of and behind the wall that meet Geberit's high quality standards," comments Dorianne Isaacman, Head of Marketing at Geberit. "They can therefore obtain sanitary solutions for their dream bathroom from a single source.
We offer consumers as well as our partners in the specifications, installation and supply to the building industry, the very highest levels of reliability in terms of quality, function and design. Customer benefits and a system approach are of central importance with all our products."
Geberit Citterio bathroom series
Geberit Citterio combines puristic contours with organically flowing shapes, resulting in an unmistakable design language. It's a premium bathroom series with remarkable originality, designed with timeless elegance and quality. The Geberit series reflects the unique design hallmarks of the renowned Italian architect and designer Antonio Citterio. To ensure a particularly smooth finish, all ceramic sanitary appliances in the Geberit Citterio bathroom series are sealed with the Geberit KeraTect ceramic glaze.
Geberit Xeno2 bathroom series
The Geberit Xeno2 bathroom series is synonymous with architectonic design minimalism. Clear geometric lines outside – soft, natural shapes in the inner basin.
This combination of features creates the impression that the inner basin has been washed out with running water for decades. Geberit Xeno2 boasts a perfectly coordinated product range of intelligent, well-thought-through elements created in an identical design language. To ensure a particularly smooth finish, all ceramic sanitary appliances in the Geberit Xeno2 bathroom series are sealed with the Geberit KeraTect ceramic glaze.
Geberit iCon bathroom series
The Geberit iCon bathroom series offers an extensive range of ceramic appliances and bathroom furniture in a clear and modern design language. The series shines with its linear design and is impressively versatile.The aesthetics of the Geberit iCon washbasins are defined by clear, sleek lines along the outer contours.
Geberit iCon bathroom furniture is coordinated with the Geberit iCon washbasins in terms of its design and function. A storage space concept offering flexible combination options reveals many possibilities for conveniently creating order in the bathroom.
The Geberit iConseries also helps to maintain clear room architecture even in small bathrooms as it includes washbasins with a small installation depth, solutions for corners, bathroom furniture, mirror elements that are perfectly adapted to small or awkwardly shaped rooms andoffers stylish WCs with a reduced projection which provides room to manoeuvre in small bathrooms.
Modern and straight-edged,Geberit iCon offers a complete product solution for nearly every bathroom.
Geberit Smyle bathroom series
Geberit Smyle brings harmony and lightness into family and guest bathrooms. With its contemporary design and ornate lines, the Geberit bathroom series creates a relaxing and positive bathroom ambience. With a clear sense of order and efficient use of a room, Geberit Smyle achieves the highest level of convenience in the bathroom from any structural situation.
Geberit Abalona bathroom series
The Geberit Abalona bathroom series is the ideal solution for functional bathrooms. The series features timeless, classic lines and can be incorporated into any bathroom. To ensure this, the ceramic sanitary appliances are available in both a round and rectangulardesign. The series is also appealing, as guest bathrooms can be perfectly equipped with the Geberit Abalona Compact products.
However, with a special product portfolio, the bathroom series is also suitable for use in cross-generational bathrooms. During the design process, the designers focused on functionality. The bathroom series offers excellent value for money. Geberit Abalona is the functional series for any private, semi-public or public bathroom.
Geberit Option mirrors and mirror cabinets
With Option, Geberit offers a comprehensive range of illuminated mirror elements and mirror cabinets that help a bathroom really stand out. Thanks to their simple, clear design, they can be used virtually in any room.
In order to ensure high-quality, dazzle-free illumination, the Option illuminated mirror elements with widths of 600 to 900 mm have two light strips, while the larger models have a single one. The mirror lighting can be easily switched on and off using the switch. Geberit mirror cabinets provide plenty of visually appealing storage space. At the same time, they reflect the light and the room, making the bathroom appear bigger. Mirror cabinets therefore create brightness and space in a room.
For further information,e-mail: [email protected]
For further information, please contact:
Geberit Southern Africa Pty Ltd
6 Meadowview Lane,
Meadowview Business Estate,
Longmeadow, Linbro Park
Johannesburg
Dorianne Isaacman, Head of Marketing
Tel. +2711 444 5070
About Geberit
The globally operating Geberit Group is a European leader in the field of sanitary products. Geberit operates as an integrated group with a very strong local presence in most European countries, providing unique added value when it comes to sanitary technology and bathroom ceramics. The production network encompasses more than 30 production facilities, of which 6 are located overseas.
The Group is headquartered in Rapperswil-Jona, Switzerland. With around 12,000 employees in nearly50 countries, Geberit generated net sales of CHF 2.8 in 2016. The Geberit shares are listed on the SIX Swiss Exchange; since 2012, the Geberit share has been included in the SMI (Swiss Market Index).