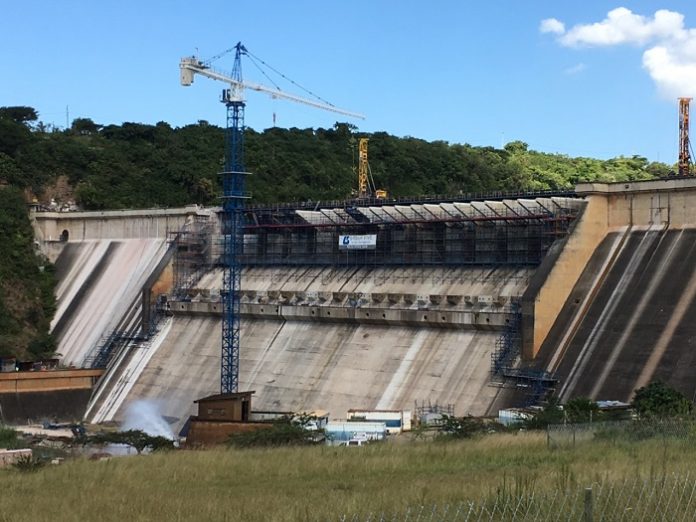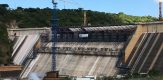 The severe drought experienced recently has resulted in Sika products being used in a mammoth ongoing project in KwaZulu-Natal. The site is Hazelmere Dam, a concrete gravity dam originally constructed in 1976, 40km north of Durban.
Although fifteen families had to be relocated to higher ground, the project benefitted the local community by creating 53 new jobs. By July 2016, the dam volume had dropped to 23% due to the severe drought in KZN.
However in November 2016, volume could have exceeded 70% if it were not for critical construction work on the slipway. Once this stage of the project was completed, in January 2017, the dam was allowed to fill to its maximum 100%, which is where it stands to date.
Realising the total inadequacy of the dam's water storage capacity, the Department of Water and Sanitation contracted consulting engineering company, Ingerop South Africa, for an effective design.
A decision was made to raise the dam wall by seven metres, thereby increasing the dam's capacity from 23.9 million cubic metres to 43.7 million cubic metres. Group 5 were appointed as main contractors.
As the first project of its kind in Southern Africa, involving the installation of 83 anchors into the spillway and the dam wall itself, the task called for the Australian based company, SRG to be sub-contracted to drill, install and post tension the anchors. With grouting of the anchors being of critical importance, it was decided that Sika products would meet the high standards required by SRG.
To demonstrate the installation process, SRG carried out first site trials by placing four test anchors 40m deep below the dam wall. After commencement of the project proper in February 2016, 355mm diameter holes were drilled at depths varying between 55m and 95m. Along the spillway the holes were spaced 1.5m apart, while on the dam wall, the holes were spaced 7.5m apart.
The stringent requirements for the water cement grout mix (exclusive of any aggregates or sands) included: initial flow time of 12 seconds, reaching 15 seconds after 60 minutes; a maximum of 2% bleed after two hours; 60 MPA @ 28 days; OPC Cement Cem I; and a grout density of 2200. Sikadur-AP was specified for use on the nose cones of the anchors. The 250mm diameter anchors, each requiring an average of 80 steel cables for post tensioning, were inserted into the holes.
The first of two admixtures specified was Sika ViscoFlow-25 ZA, especially designed for concrete mixes with extended workability requirements as well as improved flow characteristics. Compared to conventional dispersants, Sika ViscoFlow-25 ZA provides higher stability and workability time.
Since Sika ViscoFlow-25 ZA contains no chlorides or any other ingredients which promote corrosion of steel, it is ideally suited for use in reinforced and pre-stressed concrete structures.
Sika Stabiliser-229 ZA, the second specified admixture, increases the cohesion and plasticity of concrete, reducing bleed and segregation. Sikadur-42 ZA was used at the top of the base plates. It has a fluid consistency, is self-leveling, suitable for dry or damp concrete surfaces and provides high initial and ultimate mechanical strength.
This huge project, which is scheduled for completion at the end of 2017, will increase the water availability to the rapidly growing population of the North Coast region by approximately 10 million cubic meters and, since Hazelmere Dam forms the major water supply of the existing two systems in the area, the critical water shortages in KwaZulu-Natal will be significantly alleviated.
Sika is proud to be playing such an important role in this extraordinary project.
For more information on Sika products and systems, visit www.sika.co.za
Sika AG Corporate Profile
Sika AG, is a globally active specialty chemicals company with its South African Head Office based in Durban, and branches in all major SA cities.
Sika AG, located in Baar, Switzerland, supplies the building and construction industry as well as manufacturing industries (automotive, bus, truck, rail, solar and wind power plants, facades). Sika is a leader in processing materials used in sealing, bonding, damping, reinforcing and protecting load-bearing structures. Sika's product lines feature high-quality concrete admixtures, specialty mortars, sealants and adhesives, damping and reinforcing materials, structural strengthening systems, industrial flooring as well as roofing and waterproofing systems.
Sika has subsidiaries in 93 countries around the world and manufactures in over 170 factories, with some 17 281 employees link customers directly to Sika and guarantee the success of all partners. Sika generated annual sales of CHF 5.49 billion in 2015.