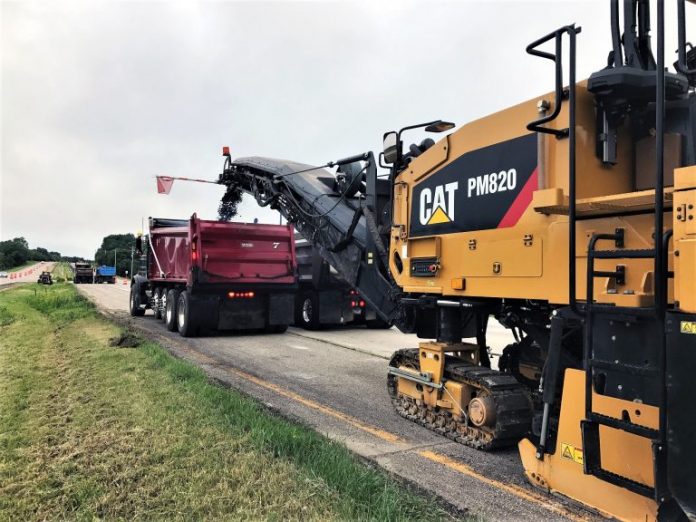 Caterpillar (Cat) has introduced three new cold planer models that the company says are capable of controlled, full-depth removal of asphalt and concrete pavements in a single pass.
The new PM820, PM 822 and PM825 are each powered by a Cat C18 engine producing 755 horsepower. The turbocharged C18 features an air-to-air after-cooling system with a variable-speed fan. Cat says the engine "responds quickly to operating demands while keeping exhaust temperatures low and maintaining needed airflow."
The half-lane milling machines weigh between 79,630 to 82,650 pounds and offer cutting widths between 79 and 98.6 inches.
Cutting
Each machine features three cutting settings controlled from a keypad. Cat says these settings match rotor speed/torque to the operating conditions at hand.
The rotor meanwhile is equipped with three-piece quick-release tool holders and carbide-tipped cutting bits arranged in a chevron pattern. Other rotor systems are available options along with Cat Diamond Bits which the company says are sharper and last up to 80 times longer than conventional carbide bits.
Drive system and undercarriage
Four-mode steering is standard on these machines and they feature a four-post design with each leg post outfitted with an auto-leving function.
Each of these three new cold planers are hydrostatically driven, offering what Cat says is "excellent traction" with "two variable-displacement propel pumps…driving opposing track motors, front-to-back and side-to-side, to ensure that the machine has power across its center of gravity."
A single propel/steer joystick provides control of the machines with infinite travel speed control and automated functions assigned to single buttons.
The tracks on the machines are 70.4 inches long and 12 inches wide and feature replaceable, bolt-on polyurethane track pads with long service life. Tensioning and alignment are done automatically by the track system.
Operation and Cat Grade Control
Cat says the PM820, PM 822 and PM825 operator's station features an ergonomic instrumentation layout, touchscreen and dual operating controls including upper-conveyor controls and rear-track steering controls.
A monitoring system allows operators to keep an eye on system pressures and engine conditions complete with self-diagnostics and fault codes. A second display is an available option for additional machine monitoring functionality.
Large locker storage comes standard on the machines and available options include suspension seats, and a hydraulically operated canopy that can be equipped with optional front and rear windscreens. An LED lighting system and a remote camera system are also available.
Another available option is the Cat Grade Control System. This 2D-capable/3D-ready grade-and-slope system automatically controls a preset rotor depth and cross slope. Cat says the cold planers can be set up with Grade Control using contacting or non-contacting sensors and the machines can either control grade on both sides or control grade on one side and slope on the other. The system also allows changing sensor arrangement during operation with "simple commands," Cat says.
Further options include a diamond-bit cutting drum, in-board averaging ski with position-sensing cylinder, high-pressure wash-down system, bucket trays for cutter bit storage, high-capacity water-tank refilling pump, and electric refueling pump.