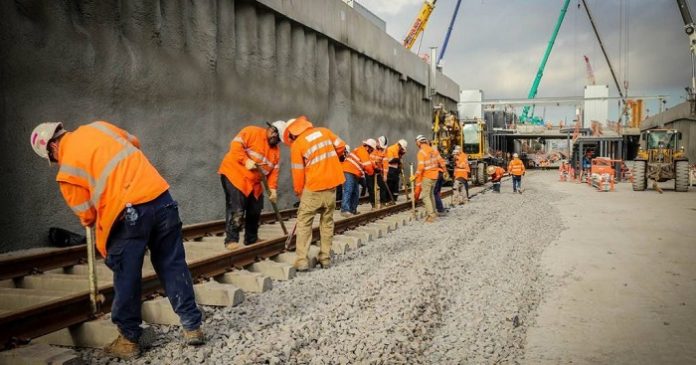 Africa today accounts for 12 percent of the world's population but can only boast of generating 1 percent of the world's GDP. Why is this? The answer lies in the wide gap that exists between its infrastructure needs and its actual present state. Adequate infrastructure is the most basic requirement in order to compete on the global economic stage. It is no wonder then that this infrastructure gap has meant that Africa only contributes 2% of global trade.
In order to change this status and put Africa at par with its peers on the global scene investment would need to reach US$ 6tn by 2040 according to the Global Infrastructure Outlook Report 2017 but current projections fall short and put the estimated figure at 40 percent less at US $4tn making the target of being globally competitive a distant dream.
Africa's emerging middle class of 340 million has put additional pressure on the need for socio economic infrastructure. This middle class needs housing, piped water and a good road infrastructure on which to drive their newly acquired vehicles. As a whole 329 million Africans live without access to potable water, while 695 million live without basic sanitation. Add to this the fact that 34% do not have access to roads and 620 million do not have access to electricity and you begin to see the dire situation that the continent faces.
Power and roads
According to the World Bank, the largest infrastructure deficits in Africa are to be found in two key areas: power and roads.
To put it into perspective, sub-Saharan Africa's total power generation is equivalent to Spain yet it has a population 20 times that of the tiny European country that is a fraction of the size of Africa by comparison. Africa's population needs power and yet 620 million people still don't have access to electricity that essentially drives economic development.
When it comes to roads, two thirds of rural Africa lives further than 2km to the nearest road while the global average is one third for developing countries.
Perhaps a most worrying statistic is that the quality of these two ingredients of economic development – that is power and roads – has actually dropped from 6 percent to 4 percent over the last 10 years given that the investment has not kept pace with the cost of maintenance and construction.
Impact
The result of Africa's infrastructure deficit has been higher cost of goods and services in addition to reducing the quality of life for most Africans.
Goods are costlier because of the high power costs that translate to higher costs of manufacturing goods, poor roads also contribute by making the costs of transportation of the goods to market higher. It is no wonder that Africa contributes only 2 percent to global trade. Africa is just not competitive enough.
On the other hand the quality of life is affected when there lacks water supply, sanitation and sewerage disposal putting at risk the very health of the population.
Economic growth has been hampered by the limited opportunities for cross border trade as a result of poor transportation and communication. Studies, such as that by the Infrastructure Consortium of Africa (ICA), have shown that poor road, rail and harbour infrastructure adds 30-40% to the costs of goods traded among African countries. This has affected Africa's broader economic performance and regional integration.
A recent World Bank study on infrastructure in Africa confirmed the challenges with regards to Africa's economic development. It found that the poor state of infrastructure in sub-Saharan Africa, that is electricity, water, roads and information and communications technology (ICT), reduced national economic growth by two percentage points every year and cut business productivity by as much as 40%.
It can now be appreciated why infrastructure services in Africa cost more than almost any place in the world, according to the Infrastructure Consortium for Africa. For instance, African rural population pay around 60 to 80 times per unit more for energy than urban populations in the developed world.
Bridging the gap
But all is not doom and gloom for Africa. Despite everything Africa is in a unique position to to leap frog in many areas and close the infrastructure gap in innovative ways and it is thanks in no small measure to the 'Fourth Industrial Revolution (4IR). It means Africa doesn't need to follow the long arduous path that the developed world used to achieve their high level of development. Just look at the mobile phone and you see one clear way that technology has saved Africa thousands of miles of copper wire for telephone connectivity.
When it comes to providing power to remote areas far from the grid, solar power has meant that these areas can still obtain electricity and even have a bill payment system based on mobile phone money transfer. MKOPA is one such company in Africa and has reached over 140,000 households offering pay as you go solar power while solar kiosks offer battery charging services in these remote areas. These innovations are closing the power deficit needs for Africa ingeniously.
And who would have thought that drones would offer delivery services where road infrastructure was unavailable. This is the new reality being pioneered in several areas in Africa meeting the challenge of Africa's low road and rail density which is the lowest in the world. An example is San Francisco start-up Zipline which launched a for-profit drone delivery service late last year, transporting crucial medical supplies to remote regions in Rwanda
The emergence of ride-sharing and traffic-monitoring start-ups means that Africa can make travel and traffic flows more efficient and optimized reducing congestion and time wasted on roads by reducing the number of cars on the road. Broad band connectivity also offers opportunities for work-at-home with the effect of also reducing traffic congestion on roads and could potentially save Africa from building elaborate road networks in urban areas as efficiencies are achieved scaling up these innovations.
These opportunities are emerging roadmaps to prosperity for Africa and we are just seeing the tip of the ice-berg today.
But roads will still be needed to deliver manufactured goods and power to make the goods and according to some reports Africa will need to spend US $55bn every year until 2030 to achieve global levels of infrastructure. When it comes to water, the World Bank says sub-Saharan Africa has a combined infrastructure deficit for water and sanitation of an estimated US $93bn annually.
Six of the world's ten most rapidly expanding economies which include: Ethiopia, Tanzania, Djibouti, Ivory Coast and Ghana according to the IMF's World Economic Outlook of 2016; are now located in sub- Saharan Africa and the reason for this is Africa's abundant resources. Africa is richly endowed with agricultural and extractive resources sorely needed in Asia and the rest of the developed world and this has stimulated investment in roads, rail and ports in the quest to feed Asia's growing appetite for Africa's resources. For instance the US $3.4bn Ethio-Djibouti Standard Gauge of which once fully operational, the first SG electrified railroad on the continent is expected to provide a link to the countries' industrial parks and dry ports through a cost effective, reliable transport.
Private investors however need to be assured that government commitment is sustained to completion of projects and so they will only be involved in projects that are deemed high priority by governments. Policy stability, timelines and revenue certainty are key.  For example in Kenya a project such as Lake Turkana Wind Power the largest wind farm in Africa has been completed but the government's failure to connect power from the project to the national grid has meant that it is unable to evacuate 300mw of power from the energy project.
Numerous financing options are on the table for Africa which include Africa's foreign exchange reserves invested abroad, Pension funds and Sovereign wealth funds
Effectively addressing Africa's infrastructure gap is essential as it will strengthen the transport, power, health, education, water and sewage sectors, improve quality of access for all, significantly increase economic capacity and give countries wider access to their large natural resource deposits, enabling more efficient exports
That so much has been achieved in the face of these infrastructure problems emphasizes the huge potential that exists across the continent.