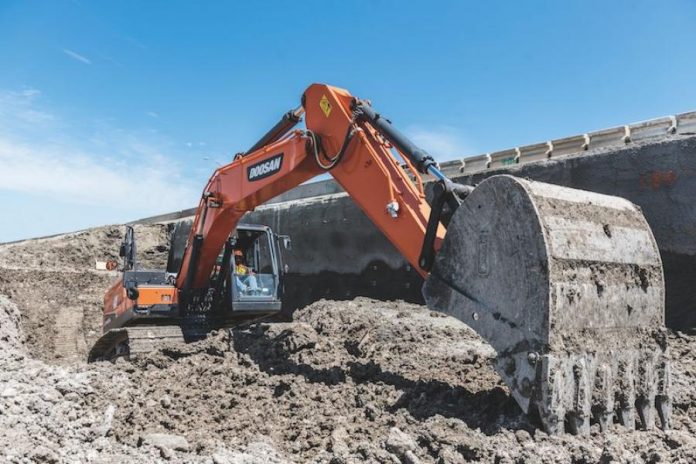 Doosan DX225LC-5 crawler excavators feature superior performance, operator-focused comfort, fuel economy and jobsite durability.
Smart Power Control Reduces Fuel Consumption
A selectable feature, smart power control (SPC), consists of two systems — variable speed control and pump torque control — that work together to improve machine efficiency while maintaining productivity and reducing fuel consumption. The engine control unit (ECU) automatically manages SPC when SPC is engaged. Each of the four power modes will function with SPC engaged or disengaged; however, SPC can be active only in the digging work mode.
Variable Speed Control: Reduces engine rpm during low workload requirements, such as during the swing portion of a dig cycle. This reduces the total energy required to perform a task and improves fuel efficiency by up to 3 to 7 percent.
Pump Torque Control: Efficiently matches hydraulic pump torque and engine response to the task, preventing engine overload and excess fuel consumption, improving efficiency.
To help save valuable diesel fuel, Doosan added auto shutdown to its excavators to help owners save fuel during non-working conditions. Operators can configure the idle time from 3 to 60 minutes. When enabled, the feature will shut down the excavator's engine when the preset idle time is met. This is particularly helpful in California where state regulations require idling for only 5 minutes for off-highway machines.
Display Enhancements
A 7-inch LCD screen allows operators to continue monitoring the excavator parameters while viewing the rearview or sideview camera image. Critical machine data appears next to the camera view. With an optional side camera, a split screen allows both camera displays to be viewed at once. New additions to the monitor include the diesel exhaust fluid (DEF) gauge and improved fuel efficiency.
Machine Features
In addition to auto shutdown and LCD screen updates, the Doosan DX225LC-5 crawler excavators offer the following machine features:
Improved anti-skid plates: for easier engine access for machine maintenance
Emergency engine stop: relocated for easier operator access
Improved serviceability: allows for easier access to components and simpler maintenance
Front window design: provides good visibility to the work area
Backfill blade package: smoothly grade or backfill material
Doosan Excavator Options
Factory-installed options for Doosan DX225LC-5 crawler excavators include the following:
Straight travel pedal, which allows the operator to travel in a straight line more easily
Two-way auxiliary hydraulic pedal (in addition to joystick control)
Cab guarding for special applications
Additional work lamps
Rotate circuit hydraulic piping
Intelligent floating boom
Super-Long Reach
The DX225LC-5 is available in a super-long-reach (SLR) configuration designed for increased reach and dig depth. The SLR model has more than 20 ft. (6 m) of digging reach than the standard configuration and can dig to a depth of 38 ft. 2 in. (11.6 m). The SLR configuration is popular for dredging applications in rivers and lakes, or for building seawalls along a coast.
Doosan Telematics System
Doosan excavators come with a standard three-year subscription to Doosan Telematics, which allows equipment owners and fleet managers to remotely monitor machine location, hours, fuel usage, engine idle versus work time and error codes, as well as engine and hydraulic temperatures. Machines can be monitored via an online Doosan Telematics account. In addition, Doosan dealers can provide improved customer support using the system by responding to machine warning messages and alerts, troubleshooting machine issues, and then sending a field service vehicle to help with repairs and deliver the proper parts.